Ndigbo, Biafrans Honour Ikedife at Nnewi. ADF Narrates Role o fDeceased BOT Chairman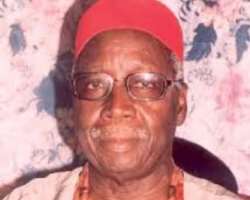 The people of the Southeast extraction, (Biafra upland area) today gathered at Nnewi at a Day of Tribute organized in honour of the late Chairman of South East Elders Forum, a former President of Ohaneze Ndigbo and Deputy Chairman of Supreme Council of Elders of Biafra, Chief (Dr) Dozie Ikedife, Ikenga Nnewi.
Speaking at the event, the first Republic Minister, Mbazuluike Amaechi, Chairman of the event who hinted on why Ikedife decided to champion the elders wing of the Biafran struggle, lashing out at the Federal Government for describing Biafra agitators as terrorists whereby the real terrorist are Boko Haram in the north.
Also speaking, the President General of Ohanaeze Ndigbo, Chief Nnia Nwodo who described the role of Ikedife in Ohanaeze and his efforts in uniting the Igbo.
Meanwhile, the Alaigbo Development Foundation, ADF described Ikedife as an Igbo nation builder, speaking through its President General and founder of African Philosophy, Prof. Uzodinma Nwala, the ADF President recalled Ikedife's role in ADF, and his participation in the petition to UN against the Federal Government during the quit notice issued the Igbo in the north.
Prof Nwala further hinted on the efforts of ADF in protecting Ndigbo interest in Nigeria.
Late Ikedife was the BOT Chairman of the prominent ADF.
Other speakers are Senator Ikechuckwu Obiora who stressed on the marginalization of the people of the east by the federal government, and why Ikedife joined renewed Biafra agitation.
Pro Biafra leaders present were BNYL Leader, Princewill Chimezie Richard, Customary Government of IPOB, and some Igbo groups.
Source: BBS TV News