(Photo Report) Abdul Samad, Others Chart New Course For Africa's Development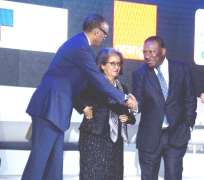 Abdul Samad Rabiu, the Executive Chairman/CEO of BUA Group has join company executives, investors and public officials, head of the financial institution and presidential economic advisor to chart a new course for Africa at the 7th Africa CEO Forum in Kigali, Rwanda.
Abdul Samad Rabiu spoke on "Economic Integration" at the forum alongside the President of the Republic of Rwanda, Paul Kagame, the Chief Executive Officer of International Finance Corporation (IFC), Philippe
ECONOMIC INTEGRATION: Making the Single Market Work for Africa; H.E. Paul Kegame, President of Rwanda; H.E. Sahle-Work Zewde, President of Ethiopia and Abdul Samad Rabiu, Founder/Chairman, BUA Group during the opening Plenary discussion of the 2019 Africa CEO Forum in Kigali, Rwanda.