Crescent Varsity set to host 3rd ACSPN lecture series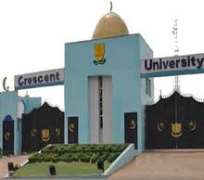 Crescent University Abeokuta has finalised plans to host the 3rd edition of the empowerment series of the Association of Communication Scholars and Professionals of Nigeria (ACSPN).
In a statement by the General Secretary of ACSPN, Prof Nosa Owens-Ibie, the lecture series will be delivered by Dr. Emmanuel Oladesu, Group Political Editor, The Nation Newspaper.
Dr Oladesu is expected to discuss the topic of the lecture centred on "The Challenge of Electoral Reporting in a Multi-ethnic, Multi-Religious Setting: The case of Nigeria 2019 General Elections."
Prof Nosa Owens-Ibie added that the lecture will come up Tuesday, April 23, 2019 at the Bola Ajibola College of Law auditorium at Crescent University, Abeokuta, Ogun State by 11.00 a.m.