You Are A Big Joker, PDP Tells AAC Guber Candidate Over Conflicting Claims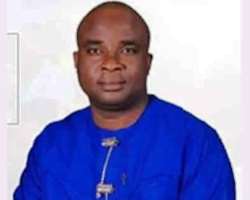 The Rivers State chapter of the Peoples Democratic Party (PDP) has described the Governorship Candidate of the African Action Congress (AAC) in the State, Mr. Biokpomabo Awara as a big joker following conflicting claims he has made regarding his position in the March 9, 2019 Governorship Election in the State.
The State Chairman of the PDP, Bro. Felix Obuah in a statement, accused Mr. Awara of speaking from both sides of his mouth, all in his desperation to reap from where he never sowed.
Bro. Obuah said that the AAC Guber Candidate, while displaying his frustration over his woeful performance in the Guber Elections, claimed that he defeated Governor Nyesom Wike in seven (7) Local Government Areas; and in another breadth, claimed he won in fifteen (15) Local Government Areas!
Asserting that the AAC Guber Candidate is gaining reputation for serial-lying, the State PDP Chairman said he was not surprised at such antics as, according to him, his emergence into the scene is the result of an evil conspiracy to destroy the State.
"You cannot get something out of nothing. A snake would always beget a long thing and no matter how much a leopard tries, it cannot wash off its black spots", Bro. Obuah declared, restating that PDP expected these inconsistencies, as no association with Awara's godfather and Transportation Minister, Rotimi Amaechi is tended to anything good.
Bro. Obuah assured the AAC governorship candidate and his co-ally, the All Progressives Congress (APC) that no plot to bulldoze the will of Rivers people would succeed, as, according to him, the people have chosen their governor, in person of His Excellency, Nyesom Ezenwo Wike.
Signed:
Jerry Needam
Special Adviser on Media and Publicity to
Bro. Felix Obuah, PDP Chairman, Rivers State.

Friday, March 22, 2019.