Focus on conduct of credible elections, ignore APC calls on Akwa Ibom REC, Group counsels INEC boss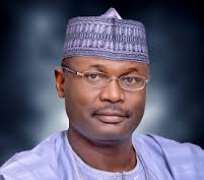 Chairman of the Independent National Electoral Commission, INEC, Prof. Mahmood Yakubu has been urged to focus more on the conduct of free, fair and credible elections on Saturday, rather than noise from the All Progressives Congress, APC for the redeployment of the Akwa Ibom State Resident Electoral Commissioner, REC, Mike Igini and other officials of the commission that appeared to have refused to do the biddings of the ruling party.
The Elections Transparency Group, ETG, which made the call on Wednesday, said it was suspicious that the APC National Chairman, Adams Oshiomhole singled out the Akwa Ibom State REC as one of the INEC officials that the party was not comfortable with.
According to a statement issued by its Convener, Dr. Kazeem Adekunle, the ETG reminded Nigerians the patriotism displayed by Igini during the ill-fated August 2018 Rivers State bye-election, in which APC wanted its candidate declared winner despite that the election was marred by violence.
"Our group monitored that election and saw brazen display of violence by miscreants and hoodlums accompanied by heavily armed security personnel in uniform. Voting activities were disrupted; election materials were destroyed while others, including smart card readers and ballot boxes were carted away and many electoral officials injured. It took the courage and boldness of Igini and two other INEC RECs for the APC not to benefit from that electoral malfeasance," ETG said.
The group said it was even more worrisome that the APC in Akwa Ibom State was threatening to boycott elections in the State if Igini was not removed as REC, noting that "when one out 100 students is insisting on the removal of an examiner, it should be clear to discerning minds that such a student has hiding agenda."
While condemning the invitation of some officials of INEC by the Department of State Services, the ETG said it was becoming obvious that the ruling party, APC was out to use instruments of the federal government to force INEC to do its biddings and work against the interests of Nigerians.
It warned that any attempt to manipulate the elections will spell doom for the country, demanding that no official of INEC should honour invitation from DSS, EFCC and other agencies of the federal government until after the elections.
Calling on the INEC Chairman to do everything within his powers to ensure credibility of the Saturday elections, the ETG said "Prof Yakubu has the rare opportunity to either write his name on gold and make himself a reference point for good before the entire world or soil his name forever."