SUSPENDED IPL BOSS MODI TO SUE ECB CHIEF GILES CLARKE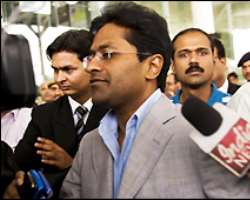 Suspended Indian Premier League chairman Lalit Modi is to sue England and Wales Cricket Board chairman Giles Clarke for libel.
Modi is under investigation by the Indian Cricket Board (BCCI) over allegations of corruption and fraud.
In an e-mail, Clarke accused Modi of indulging in activities which were "detrimental to Indian cricket, English cricket and world cricket at large."
When contacted by the BBC the ECB declined to comment.
Clarke alleged Modi was plotting to form a rebel Twenty20 competition in England and had held talks with some counties.
A statement issued on Modi's behalf on Wednesday read: "Lalit Modi has issued proceedings for libel today in the High Court in London against Giles Clarke, the chairman of the England and Wales Cricket Board.
"Mr Modi complains of defamatory allegations made in an e-mail sent by Mr Clarke on 2 May 2010 to Shashank Manohar, the president of the Board of Control for Cricket in India and others.
"In his e-mail Mr Clarke alleged that Mr Modi was planning to destroy world cricket by setting up a rebel league in contravention of ICC regulations.
"Mr Modi utterly refutes Giles Clarke's claims and has made this clear in detailed submissions made to the BCCI on 31 May 2010."
Modi, who has always denied all allegations of wrongdoing, said in June that he had no intention of walking away from his post.