Anti Atiku Protest: Show of Shame....Atiku Movement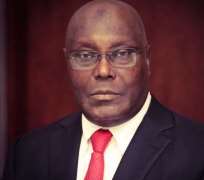 A pro Atiku group, Atiku Transformation Movement (ATM), has taken a swipe at last Wednesday's anti Atiku protest, describing it as a shameless display by sponsored group.
National President of ATM, Prince Emmanuel Ogba, who spoke to newsmen in Port Harcourt, the Rivers State, capital on Saturday said the so called Forum of Non Governmental Organisations, have embarrassed Nigeria before the outside world.
Ogba said: " The protesters must have mistaken America to Nigeria or some African countries who believe that everything can be politicised.
" Since when has America allowed its stringent visa process to be influenced or dictated by display of rented crowd ".
Ogba urged the leader of the forum , Mr Wole Badmus, to hide his face in shame as a million of his kind can neither change the American Visa process, nor deceive majority of Nigerians who are anxiously waiting to vote in Atiku in 2019 as the next president of Nigeria.
He described Badmus as a confused leader of a ragtag group who need to be tutored properly on how to prosecute people involved in bribery and corruption.
It is not Badmus business if America grants travelling visa to Atiku or not , he said stressing that time has come when activities of some NGOs must be properly checked .
He noted that most of the groups claiming to be NGOs today in the country are bunch of job hunters seeking for who would recruite them for all manner of job for survival.
Ogba accused Atiku's political opponents of sponsoring and providing faz Cap and T shirts to groups like the Badmus - led forum of NGOs, and advised Nigerians not to fall prey to their antics
He described the PDP Presidential candidate, Atiku Abubakar, as the hope for Nigerians especially the youths who are roaming Nigerian streets without job.
He said when a visionary leader like Atiku becomes the nation's president, our refineries will be brought back to life and thousands of moribund industries will come back to life and millions of jobs would be available for the youths
" All you need to do is to use your PVC to vote Atiku for president in 2019 and you would have made the Change that Will reposition things in the country for you and your children unburn", said the ATM National ,precedent