Okorocha slams Oshiomhole for abusing Obasanjo, governors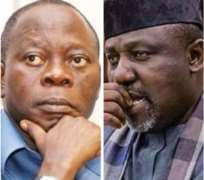 The Imo State Governor, Rochas Okorocha, has cautioned  the National Chairman of the All Progressives Congress, Adams Oshiomhole, against his constant resort to acerbic remarks against respected leaders in the country, saying it is not in the character of the party to abuse others.
Okorocha is particularly irked with Oshiomhole for allegedly abusing former President Olusegun Obasanjo and some All Progressives Congress governors.
He, however, said the affected APC governors, rather than take issue with the chairman, had decided to appeal to President Muhammadu Buhari to caution him.
According to the Imo governor,  Oshiomhole has , in less than six months, introduced the culture of rascality to the party, which he says does not augur well with the image of the party.
Okorocha, speaking through a by his Chief Press Secretary, Sam Onwuemeodo, said,  "The APC is not known for rascality and abuses. The earlier he is cautioned, the better for the party."
He said  that since Buhari became President, he had never used any foul language on any Nigerian, low or high.
Oshiomhole, he said, should borrow a leaf from Mr President, alleging that one of the reasons the Peoples Democratic Party lost in 2015 was the abuses the previous leadership of the party directed at Buhari, who was the APC presidential candidate then.
The statement further  reads, "Chief Olusegun Obasanjo is the former President of the country and no matter the provocation or his political activities this time, "Oshiomhole should have considered his status as the former President of the country in talking about him, and should have exercised caution in addressing him. Saying that God would punish the former President was never advisable. This should not be the language of the  APC."
The governor told the APC national chairman that the party did not belong to him, adding that he should carefully select his words when talking about certain categories of Nigerians.
"Oshiomhole should help the party and its candidates by making his points without abusing people. The way Oshiomhole is talking has become nauseating to most Nigerians and the earlier he is cautioned, the better. He should be talking about the achievements of President Buhari and the APC as a party instead of using the opportunities he would have used to do that to be insulting people.
"To say the least, few weeks to the elections, the APC and its candidates do not need Oshiomhole's abuses or insults but the reasons Nigerians should re-elect President Buhari and elect APC candidates."