Aft After India Comes Nigeria ?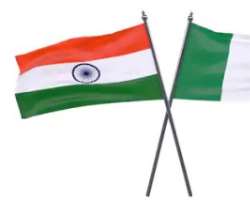 There There are strange developments between Nigeria and India. India has a population of 1.2 Billion and the Nigerian Leader being the head of the worlds most populous black Nation is regarded as a torch bearer bearer of 1.2 Billion Blacks world wide and 1.2 billion Africans.
Pandit Nehru was born November 14 1889 and the Next day, November 15 1889 saw the birth of Sir Adesoji Aderemi . Nehru was first prime minister of India with political capital in Delhi and Sir Aderemi was firswas firstt African Governor .He was governor of Western region with Political Capital in Ibadan.
Nehru"s daughter,Indira Gandhi was first woman Prime minister of India and Sir Adremis Daughter Tejumade Alakija was Nigeria"s first Woman Head of Service.Nehru and Aderemi both fought for the Indepeindependence of their respective countries from the British and they both met on different occasions with Queen Elizabeth of England and British Prime Minister Winston Spencer Churchill.
Its gets even more intriguing with the two Nationalists,Mahatma Gandhi and Bola Ige.
Gandhi and Ige were both Lawyers, both studied law at the University College London and Both were assassinated .Gandhi assassinated in Delhi and Ige in Ibadan. Bola Ige reveals in His Autobiography, Kaduna Boy ,, that India is the first country he visited.He also revealed in, Kaduna Boy, that he had read virtually everything written by Gandhi and Nehru.When Nehru became Prime Minister he confesses he was he was happy as if he was an Indian and when Gandhi was assassinated he disclosed he had "days of excruciating mental agony"
I It was Bola Ige then Governor of Oyo State who appointed Sir Adermis Daughter as Nigerias first Woman Head of Service and he it was also who presided over the ceremony marking the transition of Sir Adesoji Aderemi/ Bola Ige was also a colunmnisi for the Nigerian Tribune of which, Sir Adesoji Aderemi was first Chairman starting on the founding day November 16 1949. The founder being Obafemi Awolowo who was to become Premier of Western Region.
Furtherrmore it should be noted that Indias Richest Man, Mukesh Ambani and Africa"s richest Man, Aliko Dangote were both born in the same month of the same year. Mukesh Ambani on April 10 1957 and Aliko DaAliko Dangote on April 19 1957. Ambani Is Chairman Reliance Industries which owns, in Gujarat, what is currently the worlds largest oil refinery whereas Dangote, Chairman of Dangote Group, is building in Lagos what would become the worlds worlds largest oil refinery.
In addition to the aforementioned, by volume, India leads the film Industry with Bollywood and Nigeria comes next with Nollywood. Nigeria has just replaced India as the Poverty capital of the world and India is is also the largest importer of Nigerian Crude oil.
Can Nigeria replicate the miracle and successes of India in Restaurant operations, Information Technology, Nuclear Science , Pharmaceuiticals and Medical Tourism?. Only time would tell.
Augustine Togonu-Bickersteth writes from London ,England