NNPC woos investors for Nigeria's 10 billion barrels deep-water resources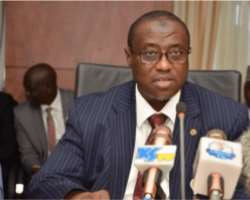 The Nigerian National Petroleum Corporation  has taken its drive to attract investment in Nigeria offshore oil resources to the United Kingdom.
Group Managing Director of the NNPC , Dr. Maikanti Baru  on Wednesday at the 10th World Energy Capital Assembly unveiled multi-billion dollar investment opportunities in the nation's deep-offshore frontiers.
Baru at the panel session entitled: Spotlight on Africa", said that "globally Nigeria has the highest untapped deep water resource of about 10 billion barrels of oil equivalent, in addition to other vast opportunities in the oil and gas value chain".
He  was represented at the event by the Group General Manager Corporate Planning & Strategy of the NNPC, Mr Bala Wunti.
Nigeria has the largest and one of the most vibrant economies in Africa with lots of potentials, especially in the gas, refining and infrastructure space. the GMD told the investment community.
"I invite you all to a country that has massive opportunities, very good business climate and good returns on investment. Our resilience has been tested, we have been through the booms and bursts and we came out stronger. With our experience, geographical location and capacity, Nigeria is the country of now and the future", the GMD stated.
He further explained that NNPC has a clear strategy for harnessing these potentials through collaboration and building robust partnerships as entrenched in the Corporation's 12 Business Focus Areas being aggressively driven by the Leadership of the Corporation.
The World Energy Capital Assembly, is a leading gathering of energy executives, finance and investment professionals to discuss emerging and re-emerging energy investment opportunities, review deals done and chart an outlook of energy related activities across the globe.
Other participants at the 10-year Anniversary of the event include Lord John Browne, the Baron Browne of Madingley and CEO of British Petroleum from 1995 to 2007; the Global Chief Economist of British Petroleum, Mr. Spencer Dale; the Senior Vice President of Abu Dhabi National Oil Company, Mr. Abdul Nasser Al Mughairbi; as well as the Senior Vice President and Chief Economist of Equinor, Mr. Eirik Wærness, among others.