Why Nigerians must vote out president Muhammadu Buhari: Jonathan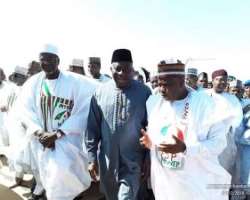 Former President Goodluck Jonathan has called on Nigerians to vote out the incumbent administration of president Muhammadu Buhari who he claims has made daily living difficult for ordinary Nigerians.
He spoke on Monday spoke at the inaugural presidential campaign rally of the Peoples Democratic Party (PDP) in Sokoto State.
The PDP North-West presidential rally held at the Shehu Kangiwa Square in the state's capital of Sokoto.
Jonathan said that Nigerians have suffered the most under president Buhari than of all the presidents in past.
Nigeria has inaugurated four presidents since 1999 after the military handed over power to a civilian government.
Jonathan said unlike the regimes of former PDP presidents Olusegun Obasanjo, Umaru Musa Yar'Adua, and his administration when the citizens were guaranteed of a decent livelihood, such cannot be said of the current administration of President Muhammadu Buhari.
The former president expressed confidence that if voted in 2019, Mr Atiku will end the current hardship allegedly being experienced under the government of the ruling All Progressives Congress (APC).
He said, "My great PDP people, let me specially appreciate the presence of our national chairman and the chairman of our campaign organisation, Prince Uche Secondus. Let us also appreciate our candidate Alhaji Atiku Abubakar and his running mate, Mr Peter Obi. Let us appreciate the Director General of the campaign organisation, Dr Bukola Saraki, and all the other top members of this campaign team.
"We are in the North West which is the most populous part of the country and we believe that the North West this time will show Nigeria the way.
"From 1999 till today, we have seen four presidents, from Olusegun Obasanjo, to our late brother Umaru Musa Yar'Adua, to myself and our current president [Muhammadu Buhari]. You have seen all the various presidents and political parties at work and one thing that is very clear is that PDP is the still the number one party.
"There is something that all of us feel as human beings. Everybody everyday must eat and if you cannot eat well, then you are not happy. PDP is the only party that can guarantee that all of us eat very well in the morning, in the afternoon and in the evening.
"Let us not make the mistake, for those of us who are adults and old enough to vote, of voting wrongly. Our children and grandchildren will not forgive us. Today our country has a lot of challenges.
"Look at all the presidential candidates, about thirty of them from different political parties. All of them are good people, we have known them as gentle and credible people but among all of them we have seen that it is only Atiku that can deliver.
"If you have a soccer match, you go with your first eleven, you don't manage. If you have a wrestling or boxing tournament, you go with your best you don't manage. Atiku is experienced enough and has demonstrated clearly from his person and business life that he has that capacity to bring this country together as one and make the economy grow so that all of us will have food to eat," said the former president.