Imo Deputy Governor Appeals To Senator Izunaso To Forgive Okorocha's Embarrassing Attitude During His Mother's Funeral Rites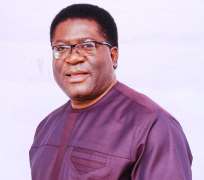 While the Deputy Governor of Imo State, His Excellency, Prince Eze Madumere, has continued to stomach ceaseless and unmitigated provocations from Governor Rochas Okorocha, he has appealed to Senator Osita Izunaso, galaxy of Nigerian leaders and their foreign counterparts to forgive Governor Okorocha over the embarrassing attitude he put up yesterday during his late lovely mother's funeral service.
The Deputy Governor's appeal was contained in a press release signed by his Special Assistant on Media, Uche Onwuchekwa.
According to the release, "yesterday during the funeral service of late Mama Florence Izunaso, the mother of Senator Osita Izunaso, which was a communion among Christians to pay the deserved respect to Senator Osita Izunaso's lovely mother, but unfortunately it presented a regrettable show of shame where Governor Okorocha refused to recognise the incumbent Deputy Governor of Imo State, Prince Eze Madumere MFR but recognised his puppet, Mr. Calistus Ekenze as Deputy Governor designate.
Predictably, this breach drew a lot of anger with the congregants booing and murmuring over Governor Okorocha's ill conceived action, bringing a solemn place of worship to a mere riotous and market-like place."
The release further stated that the Deputy Governor never took offence over such unbecoming attitude of a supposed leader of enlightened good people of Imo State but was more worried about the damage and reproach such crass seeming uncivilised and recklessness could bring to the State, especially in an event that witnessed galaxy of leaders from all works of life, different parts of the country with their foreign counterparts present.
The release added that Prince Madumere viewed Governor's breach of protocol and utter abuse to rule of law as indecorous and height of pettiness as it was embarrassing that such misdemeanor could play out in such a solemn event as funeral service in a solemn place of worship with clergy of high echelon as Bishops, eminent jurists, former Governor's, Senators and civilised personalities all present.
Prince Madumere therefore appealed to Senator Osita Izunaso and family to kindly find a place in their heart to forgive, disregard and discard such embarrassing moment, which should not ever have been premeditated by any man of conscience but to consider it an oversight on the part of Chief Okorocha who is not above such mistakes.
It will be recalled that on September 25, 2018, a court of competent jurisdiction had nullified a purported Okorocha sponsored impeachment of Prince Eze Madumere as the Deputy Governor of Imo State and had also directed that all his emoluments and other entitlement, including privileges be restored.
It is gratifying that till date, Chief Okorocha in his grandstanding has wilfully resolved not to obey the order of the court by blatantly refusing to restore every official privileges of the Deputy Governor save for access to his office.
Meanwhile, the Deputy Governor has also commended Senator Izunaso for using his experience to wittingly correct Governor Okorocha's condemnable approach in an issue that ought to have been maturely managed.
He advised politicians to always eschew bitterness and vendetta, urging them to always separate family from politics and service to the people.