Shettima Pledges to Support Nigerian Military, Security Agencies ,CJTF End Insurgency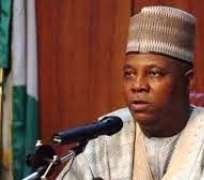 Governor Kashim Shettima of Borno state has Wednesday, at the 2018 COAS Annual Conference re-stated his government's commitment to continue to support the Nigerian military and other security agencies to complement Federal Government's effort in the counter insurgency and terrorism crusade.
The governor added that his administration would support the Civilian Joint Task Force (CJTF) and execute viable projects in the areas of education, health and economic empowerment programmes to alleviate poverty and end insurgency. He further stated that to address Boko haram insurgency, the root of poverty, unemployment and illiteracy that capitulated the Boko haram insurgency must be addressed.
Shettima said that ecological, environmental and economic factors were among the underline root causes of boko haram insurgency in the state due to the degradation of Lake Chad region including the terrain .
He however commended the Nigerian military for their sacrifices, stressing that, the military have actually recorded significant successes in the counter insurgency and terrorism operations in the state and north east as it has technically degraded the Boko Haram insurgents and restored peace in the state.
"Before the coming of this administration, you could not venture to go 10 to 15 kilometres away from Maiduguri, because a large swath of land was under the insurgent's control," he said.
Shettima further commended President Buhari and the Nigerian military for their selfless services to the people, pointing out that, their sacrifices would for ever be remembered.
The event was attended by Minister of Defence, Maj.,-Gen. Mansur Dan'Ali (RTD), Chief of Defence Staff, Gen. Gabriel Olonishakin, Professor Babagana Umara Zulum, Baba Kaka Bashir Garbai, Sen. Ali Ndume, Senator Abu Kyari, Barrister M.T. Monguno, retired and serving COAS and senior military officers among others.