Sex-for-mark saga: OAU ex-lecturer to spend two weeks more in prison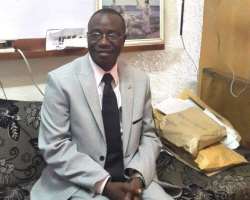 The former lecturer of Obafemi Awolowo University, (OAU), Professor Richard Akindele who was remanded in prison last week over sex scandal was not granted bail again today.
The lecturer who was arraigned at the Federal High Court in Osogbo will spend two more weeks at the Ilesa prison.
The case was instituted against Akindele by the Independent Corrupt Practices and Other Related Offences Commission (ICPC) over his alleged attempt to have sex with his student, Miss Monica Osagie.
When the lecturer was first arraigned at the court by ICPC on November 19, 2018, the court refused to release him on bail and remanded him in prison.
At the court today, Akindele's counsel, Mr Francis Omotosho told the court that a 14 paragraph affidavit in support of the bail application of his client had been forwarded to the court with a written address. He urged the court to release the lecturer on bail pending the final determination of the case.
But the ICPC Senior Legal Officer, Mr Kehinde Adetoye again opposed the bail application of the lecturer, saying that professor won't stand his trial if released on bail.
The ICPC counsel told the court that the lecturer refused to appear at the commission's office in Abuja after a written agreement to honour any invitation extended to him.
Justice Maureen Onyetenu in her ruling declined the bail application, ordered that the lecturer be returned to prison and adjournment on December 17 when his bail application would be considered.
Justice Onyetenu ordered the prosecution counsel from the ICPC to produce video evidence of the lecturer and his Student having fun before the next adjournment.
She noted that the lecturer would remain in the prison to allow more evidence from the prosecution counsel on why the lecturer should not be allowed to face the trail on bail.