2019: Atiku's Misadventure, Buhari's Ride To Success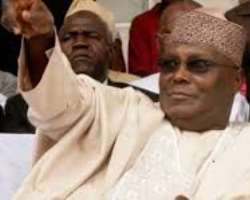 The struggle of Nigeria's former Vice President, Alhaji Atiku Abubakar to mount the horse as the country's President has been legendary and sustained. Since 2003, when he deputized former President Olusegun Obasanjo (OBJ), the ambition to lead Nigeria has refused to quench like a candle in the wind.
When the main opposition PDP conceded its 2019 presidential ticket to Atiku, it seems his closest permutation to Aso Rock, Nigeria's seat of power. Observably, since the day Atiku was crowned PDP's presidential flagbearer his excitement has known no limitations.
It's being the happiest moment of his life, beaming with smiles, anywhere he makes public appearance, as though he has been declared winner of Nigeria's 2019 presidential ballot. So, Atiku intensified his perpetually acerbic attacks on the administration of President Muhammadu Buhari, disparaging every single effort of the APC led government.
He promised Nigerians a redemption, which spurred fresh expectations of the magic his anticipated Presidency would offer the people. At last the chance is here for Atiku to make an impact; but he has bungled it from the outset.
Atiku stabbed himself on the back, November 18, 2018 with his vision in a launched policy document, variously christened "The Atiku Plan," or "Let's Get Nigeria Working Again." Itfailed miserably to inspire the confidence some Nigerians initially had in a possible Atiku Presidency.
Echoes are loud that Atiku's policy document was flat or watery on critical areas Nigeria is yearning for further rescue from the Buhari Presidency. They faulted Atiku as barren of any grasp of problems of Nigeria and fresh insights, by his duplicity and or embellishments' of most of the policies and programmes of Buhari, which he had relentlessly and voraciously criticized.
To put it mildly, the PDP standard-bearer failed to impress and others sensed some dubiousness on his change of stand on some of the issues he campaigned vigorously before his party awarded him its presidential ticket.
In some sections of the policy document, it appeared more like plagiarism of the policy initiatives of the Buhari Presidency. It dashed hopes and dampened spirits even in the camp of his most ardent supporters.
Nigerians have been analyzing the "The Atiku Plan," document from the perspective of various critical sectors of the economy. Some Nigerians dissatisfied with the Buhari Presidency, point to the nuances of national insecurity; a tottering economy; hyper unemployment rate; a comatose industrial sector, reflected in abandoned national industries/companies; the clamour for restructuring and the least, but also, very important, power rotation among the six geo-political regions of the nation.
Disappointedly, Atiku's vision in these sensitive sectors left a vacuum in the hearts of millions of Nigerians. Many have concluded that the Atiku quest for the Presidency of Nigeria is anchored on the crest of a swindle of Nigeria. They could not reconcile how a politician who has sought leadership of the country for years and vociferous in condemning existing structures and performance had nothing strikingly different in his policy document.
Atiku has contradicted himself on everything he promised Nigerians which propelled him to kick every shadow to ensure, he secures a ticket in the ruling or major opposition party to contest the presidential ballot.
From the policy document, its discernible Atiku does not either know what is restructuring of Nigeria as currently canvassed especially by Southerners or has developed cold feet towards the idea even before the opportunity to occupy Aso Rock. Quite clearly, Atiku dreads the North, which is viciously opposed to the idea of restructuring of Nigeria now.
And in order not to offend sensitive interests of the Northern oligarchs, Atiku glossed over the idea like a pupil reciting nursery rhymes. He shamelessly harped on independence of local government councils and mixed council autonomy with restructuring of Nigeria. Thereafter, he tactlessly strayed into natural resources.
Hear him; "Once power over minerals and mines is devolved to the concurrent list, states where deposits of mines and mineral resources are found will have control over those resources and only pay royalties to the center."
This is sufficiently vague. It does not offer any clue on how his version of restructuring would be executed; but relied on an unconvincing probability of the devolution of powers from the concurrent list. Atiku parroted the issue of restructuring of Nigeria, everywhere in Southern Nigeria to earn their support for partynomination and the actual ballot in 2019.
People of the Niger Delta are infinitely discouraged about Atiku's candidature. He hinted in the policy document of providing incentives to investors to invest in Modular refineries in the North to source crude oil from Chad and Niger through pipelines under a Public Private Partnership.
South-Southerners are already feeling a sense of alienation and abandonment under an Atiku Presidency. The people are feeling the experimentation of the Buhari Presidency with Modular refineries' in the South-South, where the oil wealth is domiciled as a better sense of judgment from a neutral and impartial leader.
Nigerians are also averse to Atiku's plan to privatize state-owned enterprises "including all three government-owned refineries and the concession of Nigeria's sea and airports to reputable, strategic, and technically sound buyers." It is a roundly rejected bitter pill to swallow by majority of Nigerians.
The OBJ/Atiku Presidency (1999-2007) conceived the concept of privatization of national assets. And Atiku was the chairman, National Council on Privatization and Commercialization (NCPC). It's very clear to all Nigerians that the exercise was a rape of Nigeria, as the assets were undervalued and sold to cronies and undercover agents.
Very few of them are functional at the moment and unemployment has exacerbated in Nigeria because of the dearth of such industries and companies. The inclusion of this policy in the" Let's Get Nigeria Working Again," document is a veiled message to Nigerians of the intention of Atiku and his cabal to re-launch the final sale of Nigeria to themselves, if elected President in 2019.
It has stirred disquiet in many quarters. There are speculations Atiku is likely to alter the document, by expunging such offensive sections.
To demonstrate that Atiku is bereft of any fresh ideas for seeking to govern Nigeria, the policy document also endorsed removal of oil subsidy, like Buhari's government. But it discloses his target of establishing what he called, a "Special Purpose Fund" for the funds to be domiciled and channeled to "building infrastructure in education, health and the empowerment of women and youth.
What's is new, Nigerians are asking? It was the same OBJ/Atiku Presidency that scrapped PTF, a similar concept, which would now be smuggled back under a new nomenclature? Therefore, what informed his quest for the Presidency exactly, if all he knows is retaining and renaming old concepts? Today, Atiku is concerned with expansion of modern railway lines, which are projects currently executed by the Buhari Presidency.
The PDP 2019 Presidential candidate dropped the final bombshell by stating that "To increase the nation's refining capacity, we shall privatize all four-outstanding government owned refineries to competent off-takers with mandates to produce agreed levels of refined output."
Nigeria is stressed on national insecurity many fronts. The Boko Haram terrorism; militancy in the Niger Delta; armed banditry and cattle rustling; kidnapping and violent separatists agitations and herders/farmers clashes. Atiku boasted when Buhari emerged President that if he were the leader of Nigeria, Boko Haram would have ended in six months.
But his policy document shied away from intimating on the details of what would have pass as a marvelous master plan. Nigerians fault President Buhari for his insistence on grazing reserves for Fulani herders, instead of ranches, especially by most states in the Benue valley.
Unfortunately, Atiku's policy document portrays him as a leader with the worse sympathy for the atrocities of Fulani herdsmen. Atiku does not see open grazing by herders; the clashes with farmers and mass deaths as a national security threat. And so, his document is handily silent on it.
Its apparent Atiku's failure to inspire the electorates with his long awaited policy document is his greatest nemesis for the quest to lead Nigeria in 2019. Worse still, while the North has just four more years to allow power transit to the Southern part of the country, Southeast possibly, Atiku plans his policy document extending to between six and eight years; an early sign of a sit-tight leader.
Having bared his mind, millions of Nigerians have come to the inevitable conclusion that President Buhari has no real alternative in 2019. With his cunning misadventure, through self-revelation, Atiku has made it an easy ride for Buhari's success in the next general elections.
Okanga wrote this piece from Agila, Benue State.
Disclaimer:

"The views/contents expressed in this article are the sole responsibility of the author(s) and do not necessarily reflect those of The Nigerian Voice. The Nigerian Voice will not be responsible or liable for any inaccurate or incorrect statements contained in this article."