Next Level Bunkum (A Nation in Ruins)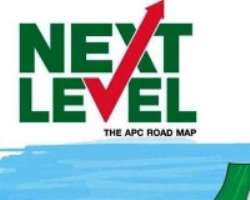 Ignorance could be deadly. What you don't know, you don't know. Some months ago, I was working at a proposed new river bridge crossing, evaluating soil samples as they were retrieved from several boreholes being drilled by a hired drilling crew, right through the existing bridge into the depths far below the river bed.
The master-driller, let's call him Billy Joe, went about his work with the smooth assurance of a seasoned operator. Whenever he ran into challenges, like a stalled drilling rig he rectified the problem with a dexterity that suggested great experience.
"You must have been drilling for ages," I told him.
"All of ten months," he replied.
"I don't just mean with your present company. I mean in totality. How long have you been drilling?"
"Ten months" he replied.
"Are you kidding me? How did you acquire this level of skill then?"
"I was into farming. I worked many years in a farm as a farm-hand," he said as a matter of fact, with a shrug.
In my mind, I was thinking, "what has working in a farm got to do with becoming a master-driller in ten months?"
"Billy Joe," I said, "you must be a very smart man then. I don't think I could ever learn your trade in 5 years not to talk of becoming so adept at it."
I thought I was praising him. I did not know I was only betraying my ignorance.
Billy Joe laughed smugly. "Have you ever been to a farm in this country?" he asked pointedly.
"No, I have not. What has that got to do with drilling?" I asked naively.
"Everything" he replied. As a farm-hand, I drove tractors, light bull-dozers, Caterpillar graders, heavy trucks, trailers, and repaired them all."
"I can fix pumps, compressors, generators, water sprinklers and many other types of farm equipment. I machined parts with a lathe machine. I can build a house, make furniture, grade a road as well as till the soil. So, this rig is nothing to me," he said confidently.
I was stunned with what I was hearing.
"When I joined my present company, all I had to learn was different types of soil from a civil engineering perspective to be able to record them properly in the drilling log. After two weeks of desk training, I worked with a Master Driller as an apprentice for five and a half months. At the end of my sixth month, the company gave me my own rig to manage."
It all started to make sense to me.
"There is nothing gone wrong in this rig, I cannot fix provided I have the spare parts." Billy Joe gushed. "That is why I easily got this job."
"My boss knows that if anything happens to the rig in the wilderness, I can rectify the problem and continue with the job. You know all he is interested in is results so that he can bill you guys. He is not interested in stories."
I nodded in firm agreement, embarrassed at my own ignorance.
"See farms in this country are very big" he continued. "Some are up to thousands of acres in area and many are in very remote areas. As a farm-hand you must learn how to do everything. Self-reliance is our motto."
"I can milk a cow, I can set traps and I can shoot. In the farm I always carried a rifle in my truck and a pistol in my pants without fail. They were part of my dressing. You never know what you will come across, bears, coyotes name it. I have seen them all," he said.
"Why did you abandon farming then? It must be a very challenging, exciting and rewarding job."
"My old boss retired, and his son took over. We don't get along too well. I felt it was time to move-on and get other experiences. But I shall be back. Farming is in my blood."
"I want to return to farming as an owner or at the very least as a Farm Manager for an established farm. I am done with being a farm hand. I am saving money to buy my own farm even if it is just a few hundred acres. When I am ready I shall take out a bank loan and buy one," he concluded.
Ignorance is dangerous, I thought to myself. I have never forgotten that conversation to this day.
The ignorant way I used to think about modern farming and farmers, is perhaps the way many Nigerians including the political and military leaders at the top think about the army and soldiers. To many Nigerians including the Army's top-level commanders, the Army is all about carrying guns, walking with a swagger, intimidating the citizenry, throwing their weight around, launching with fun-fare Operation Python Dance Phase I, II, III, IV and Operation Crocodile Tears Phase V, VI, VII and VIII.
Military prowess in Nigeria is measured by being able to shoot at unarmed demonstrating Shiite civilians or peacefully agitating Independent Peoples of Biafra (IPOB) activists. Meanwhile a single manual of the United States Army titled, 'The Ultimate Guide to the US Army Survival Skills, Tactics and Techniques,' issued by the United States Department of the army has almost 1000 pages. Can an army that tortures and kills its own civilians find the time or discipline to read such a manual and master the skills therein?
The ease with which 'next level' Boko Haram terrorists overran the Nigerian Army camp at Metele in the North East last weekend while inflicting very heavy casualties, some reports speak of up to 100 dead soldiers, should alert Nigerians to the fact that our Army which is quite over-zealous in intimidating the general citizenry, is ill-prepared to defend the nation.
I have always maintained that an Army that turns its guns on the very same citizens it is constitutionally bound to protect is not a professional army but a bush army. From all indications the next level onslaught of Boko Haram terrorists on our Army has shattered the very little morale they possess, perhaps irreparably.
I mourn the loss of our dead soldiers who were put in harms' way with obsolete weapons and without adequate training. I commiserate with the grieving families they left behind. I am saddened that our Army has not yet been able to recover all the corpses of the dead soldiers.
Curiously, about the same time they were giving up their lives in service to this nation, their service chiefs and topmost commanders were assembled at a purely political gathering in Abuja. They joined the political train in solidarity with their Commander – In – Chief President Muhammadu Buhari as he launched his campaign for re-election under the slogan 'Next Level'.
Since the launch of President Buhari's electoral campaign with what many people claim is a plagiarized logo, Nigerians have been wondering what 'Next Level' really means. The ink has barely dried up on the allegedly plagiarized logo, but the Boko Haram terrorists may have already provided the answer Nigerians are seeking.
Next Level means bunkum.
Anthony Chuka Konwea, Ph.D., P.E., M.ASCE, MNSE, FNIStructE, MNICE
Disclaimer:

"The views/contents expressed in this article are the sole responsibility of the author(s) and do not necessarily reflect those of The Nigerian Voice. The Nigerian Voice will not be responsible or liable for any inaccurate or incorrect statements contained in this article."