Robbers of Guardian Editor nabbed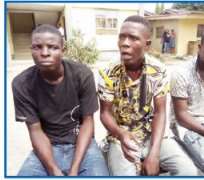 The police in Lagos have arrested one Tunde Segun, 23; Ayo Omoniyi, 24; Samson Oyeleye, 22, for allegedly robbing Guardian Newspaper's Editor-In-Chief, Mr. Debo Adesina, in the Oshodi-Oke area of Lagos.
Imohimi, while parading the suspects on Friday, said the Command, while acting on a tip-off received from commuters about the attack, directed the Officer-in-Charge of the Rapid Response Squad, to deploy police riders to Oshodi Bridge, where the suspects were arrested.
He said, "The Lagos State Police Command Rapid Response Squad, Riders Unit, posted to Oshodi-Oke Pin-Down Point, on Wednesday November 21, 2018, around 6:30pm, arrested three suspects, namely Tunde Segun, 23, Ayo Omoniyi, 24, and Samson Oyeleye, 22.
"The aforementioned suspects attacked and robbed Guardian Newspapers' Editor-In-Chief on the above mentioned date at about 5:30pm and one hour after the attack, they were arrested.
"They were subsequently searched and a Samsung X8 phone belonging to Mr. Adesina was recovered from the thieves, including a Guardian ID card and four ATM cards."
Imohimi added that the suspects, who confessed to the crime, were giving useful information to the police, adding that the Officer-in-Charge of the Special Anti-Robbery Squad, had been directed to take over the investigation of the case. – Punch