Boko Haram: How 177 health workers were killed in Yobe, Borno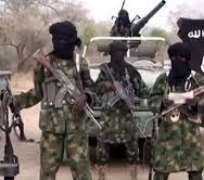 Public Service International (PSI) an NGO has said that no fewer than 177 health workers have been killed in Yobe and Borno States respectively by Boko Haram insurgents.
Mrs Moradeke Abiodun-Badru, National Coordinator of PSI on Human Rights of Internally Displaced Persons to Quality Services stated this at a workshop on the "Dissemination of PSI Participatory Research Findings conducted by the NGO on Wednesday in Abuja.
The workshop was organised by PSI in collaboration with the National Association of Nigerian Nurses and Midwives (NANNM).
Abiodun-Badru, while presenting the results and findings, gave the total death of health workers in Borno as 168, while Yobe accounted for the remaining nine deaths.
She further noted that in Yobe 628 nurses were affected by insurgency, while 1,702 members of Community Health Extension Workers, and Health Officers were affected.
"Sixty-eight health workers providing services at IDPs camps were also affected. In Borno state168 health workers were killed, 69 injured and 73 workers properties burnt; also 10 nurses were killed, six injured while 78 properties were destroyed," Abiodun-Badru said.
The coordinator who also lamented on the rate of killings, maiming among others on health workers in the region, described the menace as inimical to public service.
According to her, healthcare system in Nigeria is generally poor considering the substandard nature of our facilities across board.
Rosa Pavanelli, the General Secretary of PSI, frowned at the living condition of health workers providing services to persons displaced by insurgency in the region.
Pavanelli emphasised that several frontline workers had been displaced, while some live in camps as they provide services to IDPs in various communities without access to decent working conditions, safety, and compensation for families.
Pavanelli called on government, donor agencies among others to urgently step in to ameliorate the plight of health workers and ensure their safety.
"We see a very big humanitarian crisis in our public services especially among our workers in health and social care. Many of them have lost their lives in the line of duty as a result of the activities of Boko Haram insurgents.
"It is only fair their families are compensated by the government of Nigeria," Pavanelli said.
Also speaking, Mr Sani Mohammed, Regional Secretary of PSI for West Africa and other countries said the workshop was aimed at launching the result for the research project which they started two years ago.
Mohammed noted that the research was linked to the migration of health workers from Africa to other parts of the world for greener pasture, particularly the internal migration of people that are actually displaced as a result of conflict and some other crises.
"We are trying to look at our workers who have now been turned to target and victims especially in the North East who are actually displaced and not found working but staying idle within IDPs camps.
"Basically what we are trying to do is to look at research conducted probably support we have rendered to IDPs, the workers in particular from private sector, their rights and privileges, how do we help them to demand for those rights and privileges.
"It is very striking here in Nigeria, the teachers, the local government workers, health workers that we lost due to Boko Haram attacks, what kind of compensation can we demand from the government and various organisations they work for," he noted.
It will be recalled that PSI is championing human rights, advocates for justice and promotes universal access to quality public services.
Its works with United Nations Systems in partnership with Civil Society among others and it is a global trade union federation representing 20 million workers represented by over 700 unions in 154 countries and territories
Membership is drawn from workers in social services, healthcare, among others.