APGA Chairman Dispels Rumours That Party Is Working For Buhari
Threatens To Expel Bianca Ojukwu From The Party If.....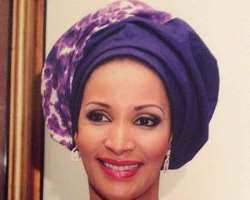 The national chairman of the All Progressives Grand Alliance, APGA, Chief Victory Oye has debunked insinuations that the leadership of APGA, with Anambra State governor, Chief Willie Obiano as its board of trustees chairman, has resolved to work for President Muhammadu Buhari in 2019.
Oye, who spoke to journalists during a press briefing held in his country home in Amawbia, Anambra State capital said the party had its own candidate and would not work for any other party.
The chairman was speaking to reporters over a recent visit of some members of APGA, who paid a courtesy visit to President Buhari, pledging their support to his reelection bid next year.
Oye said, "We are not working for APC, or Buhari, that is nonsense. We are working for ourselves. Our members have the right to support anyone, but APGA as a party is not supporting Buhari.
"We have a candidate, Gen John Gbor, and we are working hard to market him to the people. He is the most qualified of all those running for the position of president of Nigeria, and if I were Nigerians, I will vote Gbor."
The chairman debunked allegations that he collected large sum of money from aspirants wishing to run for elective positions on the platform of APGA.
"I challenge anyone who says I collected money from him or her to come forward and say so.
"All monies for the primaries, including sale of forms for aspirants and delegate elections were all paid into the party's bank account.
"It may surprise you that all the money paid into the account of the party are documented and can all be accounted for."
He warned that APGA would not sit down and watch dissident members run down the leadership of the party as there was a limit to how much one could be pushed.
Oye also warned the wife of the former leader of the party, Amb Bianca Ojukwu for engaging in anti party activities, saying that if such continued, the party would have no option than to suspend her.
"Bianca has been attacking me since she lost the ticket of the party, but I am sure we did not wrong her. The party even supported her, so only her can explain why she lost.
"She owes me apology for all the attack, and the party can even suspend her if she continues to engage in anti-party activities," Oye said.