How a Facebook selfie saved this man from spending 99 years in prison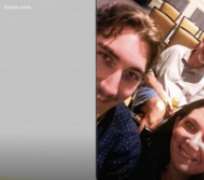 A man facing 99 years in prison for a violent crime he didn't commit was cleared of any wrongdoing, thanks to a Facebook selfie taken by his mom.
On Sept. 22, 2017, Cedar Park, Texas, resident Christopher "CJ" Precopia, 21, was working at a lumberyard when the  Temple County Police Department  came to arrest him. CJ's crime: Breaking into his ex-girlfriend's home two days prior and attacking her with a box cutter, carving an "X" onto her chest, according to Austin television station  KVUE .
CJ was confused — he hadn't spoken to his ex-girlfriend in two years, having only dated her for six weeks in high school when he was 17 and she was 15, mom Erin Precopia told  ABC News . Their breakup was admittedly unfriendly, but the pair remained apart, and CJ didn't know where she lived.
CJ Precopia, 21, was accused of a terrible crime and faced 99 years in a Texas prison. But a selfie by his mother cleared him of wrongdoing. (Photo: KVUE)
"I had no idea who accused me of this, I had no idea why everything's happening, and I was lost," CJ told KVUE.  Attorney Rick Flores,  who represents CJ, told  ABC News  that when his client asked why he was being arrested, officers said, "something along the lines of, 'Don't act like you don't know what we're talking about.'" Flores did not respond to Yahoo Lifestyle's request for comment.
Per  ABC News , CJ's ex-girlfriend told police that after CJ broke into her home, he "came towards her in an aggressive manner and pushed her to the ground, punched her in the face and cut her with a box cutter."
"I could hear the slices being made," the woman told police, according to KVUE.
CJ Precopia's high school ex-girlfriend falsely accused him of slashing her. (Photo: KVUE)
CJ's parents paid his $150,000 jail bond and over the next nine months, they waited to hear whether CJ would be found guilty of first-degree felony burglary of a habitation with intent to commit additional felonies, which carried a 99-year prison sentence if convicted. "That's what I'm scared of most," CJ told KVUE. "Going to prison for no reason."
However, Erin insisted that her son couldn't have committed this crime — because they were together on Sept. 20th, 2017, at 7:20 p.m., the time of the alleged attack. Erin had taken CJ to the Renaissance Austin Hotel for an event by the skincare line Rodan & Fields called "Men Tell All."
"Thankfully, I do log on Facebook all the time, and I check in when I go places," Erin, who did not return Yahoo Lifestyle's request for comment, told KVUE. That evening, Erin had posted a selfie of her and CJ at 7:02 p.m. at the event located an hour away from the accuser's home. Additionally, per ABC News, text messages between the mother and son showed plans to carpool to the event, cell tower data proved they were inside the hotel, and witnesses verified they had interacted with CJ.
Erin Precopia took a selfie that would later save her son from a potential prison sentence. (Photo: KVUE)
Henry Garza, Bell County district attorney tells Yahoo Lifestyle in an email: "The information that was presented was not known to investigating officers at the time the case was filed. It was in the possession of Mr. Precopia and his attorneys. It was not until counsel for Precopia presented the information to the assistant district attorney handling the case that we became aware of the information. This was some time after the charges were initially filed."
"Upon learning of the information we moved quickly and were able to independently confirm the date and location of where the photo was taken," wrote Garza. "The photo was posted to Facebook but what we examined was the actual photo that was taken and the data that was created when the photo was taken. When this was confirmed, we acted in dismissing the charges. I have said …. we are always willing to listen and examine new information, and that's exactly what we did in this case. Currently, charges are under review by law enforcement concerning the individual who reported the allegations, that matter will be reviewed by the Bell County Attorney office."
However, the damages are immeasurable. CJ's parents have paid about $250,000 in legal fees and CJ's application to the U.S. Army was denied due to the charges.
"I think there should have been way more investigation into that because it was basically word of mouth," CJ told KVEU. "…I just hope something like this doesn't happen to anyone else."
CJ did not respond to Yahoo Lifestyle's request for comment.