The EFCC Is a Ruling Party Terrorist Private Company That Bites Only The Poor And Protects The Cabal [VIDEO]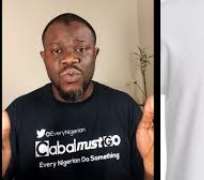 Nigeria's Economic Crimes Commission established by former president Olusegun Obasanjo was established to be and remains a tool of intimidation by the ruling government that bites only the poor and never punishes Nigeria's wealthy cabal.
The department is used by the APC-PDP politicians in power to intimidate their political foe while pardoning their friends. At the end of the day hardly any cabal ever goes to jail and in the rare event they do, ever stays there for any substantial period.
Indicted open public thieves like Kano state governor Umar Ganduje seen clearly in video collecting millions of dollars in bribe, escape the fangs of the unit.
Babachir Lawal, the former SGF, indicted for looting billions from the poor internally displaced victims of Boko Haram terror, has since escaped the fangs of the department.
The Ikoyi millions former head of NIA, Ayodele Oke and his wife, live free, escaping the private worthless ruling party tool even after such money was found in their home.
Current Chief of staff Abba Kyari has been serially indicted and implicated in bribes including the alleged receipt of half a billion dollars from the MTN phone company and he works freely.
Almost all top government officials and departments have been openly implicated in one scam or the other, from the NHIS to NEMA, but all these are swept under the rug by the useless unit. Nigeria's Army chief, Dubai property Tukur Yusuf Buratai and minister of Power World's most expensive borehole Tunde Fashola have been implicated in looting too and remain immune.
As long as the same cabal rule, Nigeria will remain cursed by God, for God commands that when the poor are treated different than the rich and denied justice, His curse is on the people.
Video:
As late Maitama Sule highlighted, there is no form of terrorism worse than government imposed injustice and agency protected looting without discrimination with the poor now being commonly used as looting treasury channel through immune persons like Babachir and the accused NEMA boss and the presidency.
Proverbs 22:22-23: Don't steal from the poor, because they are poor. Don't oppress the needy in the gate. For Jehovah will plead their cause, And despoil of life those that despoil them.
Quran 2:191: …and oppression is worse than slaughter!
We must take Nigeria back from the unscrupulous cabal and for once have a responsible unit that has no friend or foe. For Nigeria to grow the Cabal Must Go!
Dr. Perry Brimah, Whatsapp: +234-903-420-3031; +1-929-427-5305; @CabalMustGo; @EveryNigerian