NAFDAC IMPOUNDS N500M FAKE DRUGS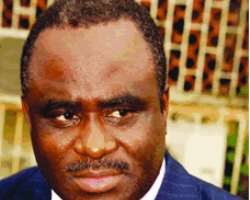 Dr.Ohii
The National Agency for Food and Drugs Administration and Control (NAFDAC) has intercepted and impounded several consignments of fake drugs imported through NAHCO shed of Murtala Muohammed International Airport Ikeja, Lagos in the past three weeks.
According to the Director-General, NAFDAC, Dr Paul Orhii, the fake drugs were worth about N500m. These Fake drugs were imported from Hong Kong, China aboard Qatar Cargo Airlines between 8- 27 of May, on five different flights as five different consignments totalling 54 large packages consigned to Bubic Nigeria Ltd. and Dubic Nigeria Ltd all in Lagos.
The fake drugs intercepted are. Lonart-DS (Artemether 80mg+Lumefantrine 400mg), L1ncocin (Lincomycin Hydrochloride Capsules 500mg), Artesunat(Atersunate 50mg), Ampiclox (Ampicillin/Cloxacillin 500mg), Persidon (20/120) Artemether/ Lumefanthrin), Fungral (ketoconazole 200mg), Arthefantrine (Artemether and Lumefantrine), Septrin tablets (Trimetoprime 80mg/Sulfametoxazol 400mg), Perilon ( Prednisolone Tablets B.P 5mg), Postinor 2( Levonorgestrel) and Tetanus Antitoxin Refined 1500l.U.
According to Dr Orhii, 'the seizure of fake drugs and destruction without prosecution has been a worrisome issue for NAFDAC. The agency therefore decided to increase surveillance both in China and Nigeria in an effort to arrest importers and check the fake drugs menace. Since the multiple seizures of the unaccompanied fake drugs, we have been on the trail of the unidentified importers.
'With the cooperation of the Chinese authorities, the airline and security agencies, this incessant import of fake drugs by a Clandestine Syndicate have been broken. The importers had consistently imported these fake drugs in corroboration with their counterparts in China in a Syndicated manner which involved evading the Police and Airport authorities in China and linking up with their associates at the tarmac of the Murtala Muohammed International Airport (MMIA) in Lagos.
'Our investigation has revealed their modus operandi; that is goods shipped in by the airline containing the fake drugs are intercepted at the Bulk breaking area of the Tarmac and later declared missing. The importer, later returns to make claims for the missing Cargo from the airlines. With these discoveries, the mysteries of missing Cargoes and unidentifiable importers of fake drugs may have been solved.
'The suspects, Mr. Paulinus Ejike and Mr. Chika Obiekie have been arrested and will soon be charged to court.
'The collaboration and networking with the Chinese authorities is ongoing to fish out the perpetrators of these heinous crimes in China; and the assistance of Qatar Airlines in developing a pre-shipment profile for all imports from China to Lagos, Nigeria, as an anti-counterfeiting measure is welcome. We are working with other airlines and carriers to develop a similar pre- shipment profile to help track down these perpetrators.
'We also appreciate the Cooperation of all Security agencies and the Association of Nigerian Customs Licensed Agents (ANCLA) in breaking this jinx of imported fake drugs without identifying their importers and we encourage them to continue the cooperation and partnership with NAFDAC.
'Investigation of this incident by NAFDAC and other security agencies in Nigeria and China is still on and any information that will lead to the arrest of more importers of fake drugs should be made available to NAFDAC.
'NAFDAC is committed to fighting counterfeit medicines and other regulated products and will mobilise all resources within its power to apprehend and prosecute the perpetrators.