Okorocha Vows To Bring Apc To Its Knees - Leads Battle Against Apc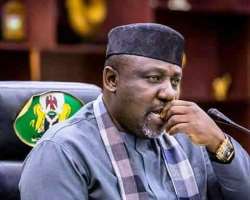 It is no longer rumour that there is an established internal political schism in All Progressives Congress, APC, Imo State following people's sturbbon resistance against Governor Rochas Okorocha's insistence to impose his son-in-law, Mr. Uche Nwosu, on the people of Imo State.
Consequently, with the emergence of Senator Hope Uzodinma, the political brouhaha has not only refused to go away but has widened to an unimaginable magnitude as the political atmosphere continues to get incensed owing to the total rejection of Senator Hope Uzodinma's emergence by Governor Okorocha and his son-in-law, Mr. Nwosu.
It is from the foregoing that the party faithful situate their fears and factually so. If the self-acclaimed founder of APC, Chief Okorocha, has continued to issue out threats upon threats against the ruling party both at the State level and at the federal level.
The party faithful and Imolites at large registered more worries from Okorocha last Sunday crusade against the APC. At the supposed solemn place of worship, Okorocha had used it as a platform to unleash his plot to go against Oshiomole, the National Chairman of APC, while supporting his son-in-law in whatever political party he might berthing on to continue with his must-be-governor ambition.
On that pulpit, Governor Okorocha insisted that Hope Uzodinma must fail in his bid to win governorship seat of the State, vowing to do anything humanly possible to ensure that APC is worthless in the State.
Continuing, Governor Okorocha came down heavily on Oshiomole calling him names for refusing to crown his son-in-law heir apparent governorship candidate of the ruling party. He also opened up many battle grounds against those he described as Abuja people. He alleged that fight against him has to do with 2013 Presidential election, saying he has nonetheless become a threat to certain individuals.
With all these relentless and ceaseless tackles against the leadership of the party backed with threats, can Okorocha be trusted with issue as serious as election, when Hope Uzodinma is already a celebrated political enemy whose emergence has continued to irritate Okorocha both for elitist-ego-trip and selfish reasons? More so, will Okorocha not be the happiest man to ensure that President Buhari is not returned in Imo and other States of the federation to get back at his new found sworn enemy, Comrade Oshiomole? How about the man who defiled him, his estranged friend, associate and Deputy, Prince Eze Madumere? Okorocha's unadulterated unforgiving spirit will stop at nothing to ensure he sabotages APC in so far as his wishes were not upheld.
At issue is how would Okorocha according to his entreaties remain in APC and be supporting and sponsoring his son-in-law in another party? This would certainly be the highest level of hypocrisy, still, he promises to deliver President Buhari during the presidential polls, which expectedly will be keenly contested.
For Realists in politics, Okorocha should be tagged and most appropriately be declared an enemy of the party and should be confined to the back seat of the party where he rightly belongs.
Going on media tirade against the party on whose platform he became Governor should not be taken for granted if the Party is truly in contest to win Imo votes for the governorship and presidential elections.
Few days back, Okorocha's first son-in-law putting in appearance on Channels Television had insisted he remains the standard bearer of Imo All Progressives Congress, hauling all manner of uncivilized verbal attacks on the leadership of the party. In his lack of wisdom, he openly accused Oshiomole of witch hunt. In his misdemeanor, he unleashed tantrums against Oshiomole, describing him as the father of political dynasty. For a green horn like Mr. Nwosu to be feeling on top of the world sparring with a man who could be his father and not only that but also the National Chairman of the party he seeks to secure ticket from, to say the least, is uncouth, uncultured and most disappointing.
Like Imolites keep asking in their lamentation; what manner of a leader would Nwosu be if given a chance? For Imolites, Oshiomole is God's instrument sent to ensure that the young man who is alien to grace did not steal the flag of the party through the back door.
Again, if the duo of Okorocha and his son-in-law can jointly attack the leadership of the party, Senator Bola Ahmed Tinubu, accusing him also as the mastermind of their political woes is another sad tales that is unbecoming of a party man if not an affront to the leadership of the party. This is a reckless attitude so unexpected of a leader.
In another unruly show of disrespect to the leadership of the party, this time, Okorocha's puppet, protégé and son-in-law chose to throw caution to the wind, calling on the Presidency to call Comrade Oshiomole to order, which most people have described as gross insolence.
With these myriad confrontations and threats, it is safer for the leadership of the party to note that political war has not only been declared, there is a raging war driven by bitter-bile laced with unforgiving-vengeful spirit. Though Okorocha may appear a political pariah following his total rejection by most political parties and platforms, including the Action Alliance he helped to form, there is one thing you can't take away from Okorocha; and that is the fact that he may choose to align with any opposition candidate to fight against APC.
Every discerning could easily uncover this plot going by Okorocha's Chief Press Secretary, Sam Onwuemeodo's one of the most recent releases where he mentioned some of those who can be Governor but vowed that Hope Uzodinma or any other candidate who went against Governor Okorocha's unacceptable desire to impose son-in-law on Imo people will never be Governor.
As the Governor's spokesperson, Onwuemodo could not have differed from the thinking of his principal, Chief Okorocha. Hence, in the said interview published in his own newsletter, Whitepaper of Wednesday, November 14, 2018 edition, where he mentioned a number of governorship candidates who are of other opposition parties who could be governor.
With little intuition, the only acceptable logic from Onwuemeodo's premise is that Governor Okorocha has made up his mind to work with any of the standard bearers who may be willing to keep his part of the bargain, which might hinge on covering his atrocities against the people of Imo state.
Therefore, it will be foolhardy and strategically foolish should the leadership of All Progressives Congress believe that Okorocha would ever stoop to work for the success of the ruling party in the forthcoming 2019 general election.
A little insight into the intrigues that threw up Hope Uzodinma as the candidate of APC for Imo governorship contest would reveal a bitter political battle that was fought by those Okorocha thought he had conquered their souls and spirits. For him as the lord if not the god of the manor as modeled in George Orwel's animal farm. One can imagine a modern day emperor who prides himself as the Alfa and omega, boasting of how many politicians he has retired and many more to go. His docile followers, including those who are by far more enlightened academically and otherwise will hail him hero and shout to the high heavens. Some called him destiny helper while others will call him the father of new Imo.
Amid all these glories, his Deputy, Prince Eze Madumere who has been his associate for over 25 years looked him straight in the eye and said hell no to extreme nepotism; and of course he led the revolution. The ever vibrant Dr. Theodore Ekechi, who was his former Information and Strategy Commissioner, rather than join in the fray of electoral contest dedicated his time and energy for the battle against Okorocha. Dr. Ekechi operated with other die hard, like Hon Jasper Azuatalam, fiery Senator Ben Uwajumogu, Senator Ifeanyi Ararume who later got out for a reason considered wholly self-serving. He did his best. Ichie Mbanaso and many others. The battle was not without its painful side as Okorocha fought back with instruments of power at his disposal. House members were suspended, jobs were lost. Impeachment of his deputy was plotted. Threats were dished out at will with thugs having a field day on Imo common wealth.
It was also irreconcilable for Okorocha to also discover that Sir Jude Ejiogu could have the gut to join the coalition forces against him. The Coalition forces grew in number at the eve of the primary election with Senator Hope Uzodinma, Commodore Peter Gbujie, Sir Nlemoha among others joining the forces.
If anyone can ever believe that Okorocha will support APC at any level at all, such person is surely not of this world and probably may be a humanoid because he can believe anything. Like Igbo proverb will say; "ama agbara agba anaghi eri nwa opara". Predictably, it will be the 8thwonder of the world should Okorocha ever support APC. Should the party wish to make any impact in the forthcoming general election in Imo State, it must first handle Okorocha factor who considers this election as his last political battle, which must be fought with anything at all at his disposal even if it means emptying the State purse before the arm of law catches up with him.
Stephen Mba writes from Owerri