Sylva: Dickson's Government is a bubble of lies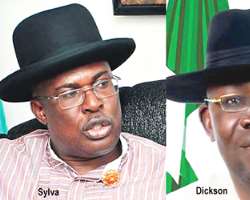 The attention of Chief Timipre Sylva, former Governor and leader of the All Progressives Congress in Bayelsa State has been drawn to a press statement by the Bayelsa State Commissioner of information and mouthpiece of the monstrously vacuous Government of Seriake Dickson, Mr Daniel Iworiso-Markson, alleging an avalanche of poorly woven lies.
If anything can be gleaned from the pedestrian prattles of a press statement, which is aimed at distracting the general public from the apparent failures of the Dickson government especially in its primary duty of securing the lives and property of the Bayelsa people, which is presently at its lowest ebb, it is that Dickson and his band of mediocres are barren of ideas to both move the state forward and to continue in what has become their pasttime: obsessing over Sylva.
At this point it is easier to believe that Dickson needs some sort of mental salvation, as it's obvious to even his lapdogs that he is stranded in the alternate reality created by his narcissism. It is only in the imaginary world of Dickson and his lieutenants of Yes-men that the EFCC keeps returning 48 houses to Sylva every year. it is only in the make-believe, distorted imagination of Dickson and his ghastly handlers that Sylva keeps defecting to the floundering PDP every month. It is only in the warped world of Dickson that his government constructed the Nembe road, when the world is aware the road was facilitated by Chief Sylva and completed by the NDDC, led then by Hon Mrs Ibim Seminitari and Shell. It is only in the endless bubbles of lies by Dickson that the World Bank gave Sylva an imagined loan of 300BN
Bayelsa State is stretched on the one hand by a combination of socio-economic and infrastructural decline, and on the other hand by the greatest wave of state inspired and nurtured criminality and insecurity ever to hit the state. If there was any bit of sincerity within Dickson and his limp government, this would have been a time for sober reflection, soul-searching and inward looking. But then, a man cannot give what he does not have. So rather than reflect on the woes his government has brought upon Bayelsans, the self-styled country man who is clearly suffering from siege mentality is looking for others to blame.
Thus Dickson has rather exhibited his unabashed, quintessential cynicism by taking aims at imaginary enemies and building walls of division and disharmony. Another pointer that the value of human lives is dwarfed by Dickson's dark ambitions
The Bayelsa State APC under the able leadership of Chief Timipre Sylva is bigger, stronger and more United than ever before as the fifth - columnists within have been discovered and hurled back to their Base. Lest we forget, the APC congresses in Bayelsa state recorded total peace while the PDP under Dickson did their primaries in an orgy of violence. The disturbing situation in Bayelsa State is a reflection of Dickson's incompetence and morbid fetish for death and disaster.
Six years is a long time to learn on the job, but it is, unfortunately, an opportunity spurned. The state government should own up to its many inconsistencies, publicly apologise to the people of Bayelsa State and do something honourable for their first time: dissolve itself.
Chief Sylva urges the people of Bayelsa State, members of the APC and the general public to discountenance Dicksons macabre dance of shame at a time Bayelsa State is facing her steepest challenges. Sylva condoles with the family of Miss Seiyifa Fred and other innocent Bayelsans who have been maimed or killed due to the insecurity that has enveloped the state
Sylva is certain Bayelsa State will shortly be salvaged from the grapple hold of this most base, guerrilla structured government as the APC is set to begin a renaissance that would build and make something beautiful from this current disaster trailing the so called restoration government
Julius Bokoru is the Media Assistant to Chief Timipre Sylva