Borno Governor, Shettima receives Sheikh Mufti in Maiduguri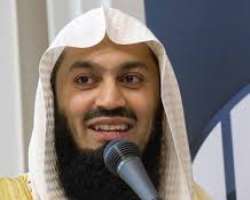 Borno Governor, Kashim Shettima on Tuesday received in audience, prominent Islamic Scholar with vast followers on the social media, Sheik Mufti Ismail Menk at the Government House in Maiduguri.
The Sheikh was in Maiduguri to deliver a lecture at Al-Ansar Masjid and the University of Maiduguri on the invitation of The One Ummah Group, organisers of a lecture series. Representative of the group, Dawud Kyari accompanied Sheikh Menk to the Government House.
Governor Shettima happily received Sheikh Menk after directing that he be given a befitting accommodation in one of the Presidential lodges inside the government house.
Speaking during an audience, Governor Shettima described the Sheikh as a face of modernity and moderation and someone who is an advocate of education, with gender friendly sermons.
The Governor showered encomiums on the scholar, acknowledging his large follower-ship and thanking him for the 'free' visit.
"I've been on the internet and gotten a lot of your sermons which are so educating and enlightening.
Allah has blessed you with a depth of knowledge, versatility, and rich in educating the Muslim Ummah.
"Yes, you were educated at Medina, but you are a pride of Africa. You are Allah's gift to humanity. Many people tend to assume you are from Saudi Arabia. You are African, you are from Zimbabwe, and we are all mightily proud of your accomplishments.
"You have millions of fans, I follow you on Twitter, you have atleast 5, 10, 20 million followers that you might not notice me.
You are a beacon of hope, especially your striking condemnation of extremists. I have been following with keen interest all your sermons, and may Allah continue to preserve you, so that you can continue your service to humanity.
"I know a lot of Muslims that are following you, that are mesmerized by your moderate preachings of tolerance, for accomodation, magnaminity, and for understanding.
We are quite happy, delighted, and honoured to host you in Maiduguri.
"People of Maiduguri are anxiously waiting for your sermons, and I want to allow them to tap from the quantum of your knowledge, maybe you can visit once in every two years. And this is a visit without any royalty, you are doing it Fisabilillah.
From Southern Africa, Allah brought us Ahmed Deedat. From the South of Africa, Allah brought us Mufti Menk. We are very very proud of you" the Governor said.
Recognizing the Sheikh's preaching against terrorism, Governor Shettima recounted statistical damages done to the State by the dreaded Boko Haram sect, even though it fostered some opportunities to re-engineer societies.
"Boko Haram, the mass murderers caused a lot of havoc on our society such that we harvested a total of 54,911 widows and 52,311 orphans. These statistics were extracted from Recovery and Peace Building Assessment conducted by the World Bank in partnership with the European Union and the Nigerian Presidency.
They destroyed 30% of the total strock of houses in Borno, 956,453 units of houses. I really don't want to bore you with the statistics, but they destroyed 5600 classrooms, 512 primary schools, and 38 high schools and tertiary institutions of learning.
"The word for crisis in the Chinese language is 'Wei Ji'. Wei stands for Ji stands for opportunity. This crisis has fostered some opportunities to re-engineer our societies". he said.
The Governor also expressed his administration's efforts, strides, and some future plans for the betterment of the populace.
"We are building mega schools, across the length and breadth of the State, about 40 of them to take care of over 50,000 orphans whose parents were killed by Boko Haram. All our classrooms are going to be equipped with digital technology aids. In all our schools, we are going to feed them one meal per day. It pains because as leaders, our kids are going to posh schools, while the masses are growing up denied access to western education.
"We are building lives and livelihoods in our enlightened self interests, because these orphans and widows fifteen years down the line, we either take care of them or they will take care of us. They will be Frankenstein monsters that will consume us all. And education, is the only window and opportunity. And we are advocating bilingual education. A blend of Islamic and Western education so that we can come up with something feasible. So I will urge and invite you to visit one or two of our schools, so that you can have a better perspective on where we are heading.
"Honestly, I dream about these schools, I sleep with those schools in my mind, because I know in Africa, we missed the agricultural age, we missed the industrial age, now we are in the post industrial - knowledge driven age. We can really leap-frog our society into the knowledge driven age.
"In the case of our Fulani cousins who are being demonized in other parts of Nigeria, we presently are feeding them two meals per day. And when they are going on holidays, we give the parents gifts of food, clothings, etc. so that their quality of life will not fall. You know better than I do, but the grey matter infrastructure of a growing child is very crucial" the Governor noted.
Shettima invited the scholar for a tour round the metropolis before his program at the Al-Ansar mosque. The Governor drove the scholar to some school sites in Maiduguri.
Sheik Mufti Menk said even before the tour that he was amazed by the structures he saw on his way to the Government House from the airport.
He said he never expected this type of growth in this part of the world.
"You have first world facilities in the midst of third world country. It is a very big blessing of Allah. May Allah Bless you for the work you have been doing. I am so touched, I am lost for words". he said.
Sheikh Mufti presented a signed book of his; 'Motivational Moments' (compilation of tweets for any faith) to Governor Shettima, so also, the One Ummah Group presented a publication of their works and what they do.