Goodluck Jonathan reacts To Osinbajo's Blames: Leave Me alone, answer your indictment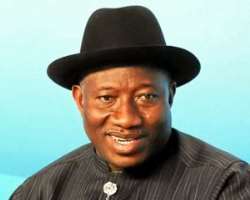 Former President Goodluck Jonathan has asked Vice President Yemi Osinbajo to focus on his indictment by the House of Representatives over fraud in the Nigerian Environment Management Agency than his predilection to blaming him for everything.
Reno Omokri, responded on behalf of Jonathan. Omokri, author of bestselling author of Facts Versus Fiction: The True Story of the Jonathan Years, and other books, served as aide to Jonathan in charge of Social media while Jonathan was in office. Omokri writes, "My attention has been drawn to regurgitated and discredited allegations by Vice President Yemi Osinbajo blaming former President Jonathan of saddling Nigeria with debt and ruining the economy by the alleged corruption of his administration. "How can Vice President Osinbajo, a man who had just been indicted by the House of Representatives in one of the biggest corruption scams ever in Nigeria's history, have the gall to point accusing fingers on Dr. Jonathan, a man that is celebrated internationally for his efforts at achieving Nigeria's best rating in Transparency International's annual Corruption Perception Rating when Nigeria improved 8 paces from 144 to 136 in 2014?
"Having read through the sordid details of Professor Osinbajo's corruption as revealed in the indictment by Nigeria's House of Representatives, it is easy to understand why Nigeria made her worst ever retrogression in Transparency International's annual Corruption Perception under him this year, moving 11 paces backwards from 136 to 148.
"On the issue of debt, the fact remains that in the entire 16 years that the Peoples Democratic Party governed Nigeria, the total amount of money borrowed was ₦8.06 trillion Naira. These are facts sourced directly from the budget office controlled by the Buhari administration.
"However, in only 3 years, the All Progressives Congress led administration of President Muhammadu Buhari has borrowed a total of ₦10 trillion Naira. With this fact in hand, where does Vice President Osinbajo have the moral authority to point leprous fingers at former President Jonathan? "The claim by Vice President Osinbajo that former President Jonathan left $$63 billion in debt is also a false claim. The Jonathan administration inherited $42.23 billion in debt in 2011 which were debts borrowed by the states and the Federal Government. Throughout the five years that he was President, former President Jonathan incurred the wrath of several state governments because his administration refused to guarantee their foreign loans.
"The reason that Nigeria's debt has ballooned under this administration is because the Federal Government lacks the discipline that Jonathan had and are thus unable to curb borrowing by both the Federal Government and the states.
"For example, on Tuesday November 13, 2018, the Debt Management Office revealed that in just 2017 alone, the Buhari administration borrowed ₦2.4 trillion to fund their budget deficit. This is besides other loans that they took in 2017 alone. That money is more than the funds borrowed by the Jonathan administration in 5 years!
"To show to Nigerians the profligacy and ineptitude of the current administration, I draw their attention to the fact that between July and August 2018, the Buhari administration claimed it had shared $322 million Abacha funds recovered by the Jonathan administration to the poor. Then a week after it made that announcement, the Buhari government borrowed $328 million from China. "The question is this, why would you share out $322 million one week only to borrow the same amount next week? Why not use the Abacha funds to fund government activities instead of adding to the already strained debt burden? "These are questions that Vice President Osinbajo should answer rather than making false allegations against former President Jonathan."