Traditional Medical Practitioners endorse Umahi for second tenure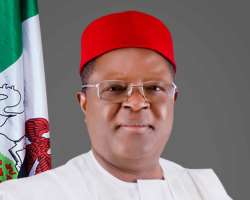 Native Doctors in Ebonyi State yesterday endorsed Governor David Umahi for a second term in office.
The group, under the aegis of National Association of Nigerian Traditional Medicine Practitioners, NANTMP, made their decision known during a solidarity match in support of the Governor in the streets of Abakaliki, the capital of Ebonyi State.
Members of NANTMP who came out in their hundreds for the solidarity match also stormed government house Abakaliki where they conveyed their decision to the Governor.
They brandished placards with various inscriptions such as: "we are totally in support of the reelection of Akubaraoha; David Umahi is a man of peace; Akubaraoha deserves reelection; 4+4 is 8, among others.
Speaking on behalf of the group, the state Chairman, Chief Dr. Augustine E. Okohu, said they are greatly concerned about the second term bid of the Governor because of his numerous achievements in different sectors.
He listed Governor Umahi's achievements to include: construction of flyover bridges, construction of concrete pavement solid roads, adequate security, street lights, empowerment of widows and less privileged, payment of hospital bills of less privileged and free education to Ebonyi citizens, among others.
Chief Okohu further lauded the Governor for establishing Ebonyi State Traditional Medicine Board, and appealed to him to inaugurate the board in line with the law establishing it.
Receiving the group on behalf of the Governor, Chief of Staff government House Abakaliki,Chief Offor Okorie, commended them for a peaceful rally as well as their support for the reelection bid of Governor Umahi.
Offor assured them that their message would get to the Governor as soon as possible.