Gov. Rochas And Desecration Of Igbo Dignity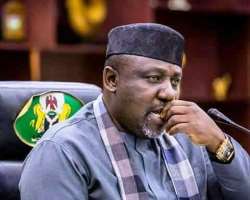 This article was written and published in 2011, but I have decided to republish it to prove to the world that the chameleon cannot change its colour. Gov. Rochas cannot change; I wish to refresh your memory once more with this as I enjoin you to enjoy yourself as you read on.
To the Igbo man, it is very clear that the Supreme Being call Chineke, creator or God who creates, the maker of man as well as the author of other things in this world is the source of all things. Examination of Igbo theophoric names like Chikendu, God created life; chinwendu, God owns life; Chinaemeze, God makes king, etc; all of the above points to one direction that the Igbo man believes that each and every faculty and talent of each and every person is given to him by God.
In the entire spectrum of creation, the Igbo man believes that man occupies a special dignified status in cosmic scheme of things. This belief is evident in the name mmadu which means "the beauty of life-man". Thus the Igbo man recognizes that man is a dignified, noble cum rational being. The maintenance and sustenance of the dignity of man has over the years been the motivating philosophical cum metaphysical factor which has led to the survival of the Igbo as an ethnic group with common destiny and purpose. This argues for the reason behind the ambition of every Igbo man to make a mark in political, social, economic and religious spheres.
Igbo people believe that character is the fundamental index of dignified living. In the word of Mahatma Gandhi, "A man of character will make himself worthy of any position he is given". This is core Igbo philosophy. No wonder Isu-Okporo people of Imo State often say "agwa wu mma", good character is beauty. As a result, a cultured Igbo person has respect for title holders like chiefs, Nze and Ozo. Above all, the custodians of our culture and tradition called Ndi Eze are highly respected and honored by every Igbo person. Today out of Ignorance, some of our people try to achieve this noble ambition of upholding the dignity of man by employing some repugnant methods to the consciences of today's Igbo enlightened mind. This has led to the desecration of our values. The government is not out of this manipulation and hoodwinking dexterity. Our people must be protected against government high –handedness because government always has the propensity of trampling on the right of the citizenry –by using vindictive tendencies as epitomized in the indiscriminate dissolutions and suspensions of duly recognized traditional rulers.
In accordance with the principles of dignified life in Igbo cosmology, traditionally, the selection of Onye Eze (the tradition ruler) is by his people and recognition is by the government. That the present administration of Owelle Rochas Okorocha dissolved and consequently suspended the 106 newly created autonomous communities and their traditional rulers invokes the principles of ignoble politics into the realm of our dignified Royal heritage. The creation of these autonomous communities did follow the due process as prescribed by law. It is on record that many of these newly created autonomous communities concluded all the processes required by the law during the Achike Udenwa administration. The Ohakim's administration consequently applied delay tactics by subjecting them to another review, for which they paid a lot of money. Then the Imo House of Assembly took all the necessary steps in accordance with the Imo State Traditional Rulers and Autonomous Communities Law No.6 of 2006 to rectify the process. Thereafter the names of the newly created autonomous communities and their Eze's were published in the Imo State Gazette. As a result, the then governor Chief Ikedi Ohakeim gave the traditional rulers their staff of office.
The Owelle led administration should be reminded that the 106 traditional rulers are not Eze elect. They are traditional rulers with their staff of office; therefore any injustice done to them is an injustice done to the entire Ezes in Igbo land and this amounts to desecration of our identity and dignified living. Governor Okorocha is not the governor of one political party; he is the governor of Imo State and should remember that the 106 autonomous communities spread across Imo State. Their traditional rulers are not PDP, neither are they APGA or ACN they are all Ndi Eze of Igbo land. The indiscriminate dissolutions and suspensions is a mark of vilification and humiliation of our traditional values and heritage, such can attract the wrath of God upon a land. Like Plato the great philosopher would advice "Be kind, for everyone you meet is fighting a hard battle". In the face of our hard economy, the government should not assist in making things difficult for the poor masses who voted them into power. Our leaders should treat the masses with apathy and shun vindictive policies that will only help to create rancor and dichotomy. The new government should concentrate on his new policies and should refrain from chasing shadows. Subjecting these autonomous communities to another round of extortion is a bugaboo. Whoever is aggrieved or thinks otherwise is free to challenge it in the court of law.
Acting contrary to the rule of law is a democratic offence which should call for the resignation of a governor. Owelle is out to destroy Imo State with his ignoble political policies. Running the affairs of Imo State as if it is Rochas Foundation is the pestilence that awaits him in the end. It appears that Imo Government House receives direction from Anambra State business men; settling political friends with our Allocation money will only live Imo in mercy of God. We have not forgotten (as rumor had it) how some Anambra men surrounded a particular house (being naked) before the election, demanding for their money. I am sure that by now they must be laughing at us, having warned us of the danger in having Rochas as our governor. Since he was elected in the inconclusive election we have witnessed a high level of insecurity, arm robbery, kidnapping and other social unrest in Imo State. Rochas recently set up a Non-governmental Organization (NGO) called 'Imo Foundation' and consequently appointed a Director General (DG) to head same. It is amazing that the Foundation has received N30 million approved for its take off. The bill establishing this NGO has just gone through its second reading in the House and has not been passed into law. The big question is where did this money come from? I want Imo people to know that OUR FALSE MESSIAH ROCHAS who is on hostage mission as I did mention in this column before the April/May election has removed up to N6 Billion from the bond money. Unconfirmed rumor also has it that Imo Transport Company (ITC) and Imo Concord Hotel has been sold. Though Rochas debunked the information- Imo people shine your eyes!
Yes, it appears that our governor is not interested in developing Imo State, otherwise, how can he justify the dissolution of the 106 Ezes without due process? The previous administration of Chief Ohakim approved the scholarship programme which Owelle implemented, now the same administration employed 10,000 youths and Owelle reviewed it and terminated the appointment of some youths with rancor. Today the same youths are roaming about the street of Imo praying and asking God to touch the heart of Gov.Okorocha in order to return their jobs. Oh Owelle na so the hostage mission oh no, I mean rescue mission is? A sage once said, "The purpose of life is to have a life of purpose." Owelle where lies the purpose of this administration? The LGA Allocation money is seriously tampered with for instance, Onu-Imo LGA got N56 million in the month of June but they only received N13 million, that of Isiala Mbano is N85 million and they never saw the money. The April, May, June, July and August Allocation came to Owelle and yet salaries are not paid. Imo people cannot boast of anything within 100 days in office . Praise God our Messiah is working to salvage Imo and to rescue her finally. Imo behold we are drowning already! Owelle don't seem to understand the problem yet. What wrong has the Royal Fathers done to deserve this type of treatment? After all, in Abia state there are about 800 traditional rulers and our monthly allocation is much more than theirs. I did hear Rochas during the political campaign when he said that, "there is enough money in Imo State." Now what has happened to our much money? Owelle don't do what you are about to do with our traditional rulers, because it will amount to desecration of our dignity.
Disclaimer:

"The views/contents expressed in this article are the sole responsibility of the author(s) and do not necessarily reflect those of The Nigerian Voice. The Nigerian Voice will not be responsible or liable for any inaccurate or incorrect statements contained in this article."