Nigerians knock el-Rufai over Peter Obi comment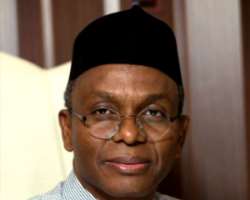 Nasir el-Rufai, Governor of Kaduna State has come under fire from Nigerians for calling former governor of Anambra State, Peter Obi, a 'tribal bigot'.
El-Rufai in his twitter account, referred to Obi as " a tribal bigot." He alleged that Obi stopped him from moving around Anambra State during the gubernatorial election in the State in 2010.
Obi said he was shocked to read such an outburst of hate from El Rufai, especially when, according to him, "the statement came unprovoked, suggesting that it was what he sat down to think of rather than thinking about how to solve the many problems plaguing the country."
But Nigerians across all divides have lampooned El-Rufai whom they described as the most "bigoted" and "opportunistic" politicians in the country. Some dubbed El-Rufai a traitor and chief betrayer of trust.
Abdul Shamsuddeen told our reporter: "I was surprised to read El Rufai's tweet on Peter Obi. El-Rufai is full of such hate speeches, though. But he is the most bigoted politician in this country. He has divided Kaduna. He is a hater of Christians and he does not even hide it."
Mazi Ude Ozurumba in his account tongue-lashed el-Rufai, calling him the "traitor-in-chief". He betrayed Atiku Abubakar, stabbing him in the back to please Obasanjo. He called Buhari all sorts of names in 2011 and today he is defending the same Buhari. Presidency should be wary of this man. He is full of mischief…"
For Samuel Ofunne, El Rufai is again at his game. He is the master of bigotry. "A hater of Ndigbo and hater of Christians should not call others bigots which is what he truly is," he said.
Femi Ajayi, Lagos-based admirer of the All Progressives Congress (APC) said: "Let's keep politics aside, I think El Rufai erred in this one. I am a fan of Peter Obi except that he is in the wrong party. El- Rufai took on the wrong person because this Peter Obi has many fans especially among young Nigerians irrespective of tribe and religion. He is one of the few politicians who inspire hope in the youths when he speaks."
In Obi's words: "What His Excellency, Gov. Nasir Ahmad El Rufai said about me has been brought to my attention. I believe that as we grow older and are saddled with more responsibilities, we are expected to become circumspect in our thinking and avoid recklessness in our speeches and utterances. How does the circumstance he referred to related to bigotry to warrant such a label? All I do for people like El Rufai is to pray for them and encourage them to concentrate on doing those things that will better the lots of Nigerians rather than engage in hate speeches that will divide and destroy the country."
Insisting that Nigeria does not need violence of speech to solve her numerous problems, Obi continues: "At this difficult time in our country, when thousands of our brothers and sisters across ethnic divide are killed all over the country, including innocent citizens in Kaduna state; millions of our children from all the parts of the country are out of school; millions of Nigerian youths from all the parts of the country are without jobs, our pre-occupation, especially among those that are in government should not be making reckless speeches. What our leaders should be doing today is seeking solution to numerous problems of our dear country."