Disobedience to court order is corruption: Emir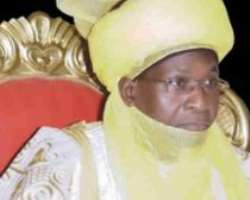 The Emir of Gummi, Justice Lawal Hassan Gummi (retd.), has said that disobedience of  court orders  by those in authority is another form of corruption.
In what appeared to be a pointed message to the incumbent ruling All Progressives Congress, the traditional ruler that government must exemplify the change it promised before expecting citizens to follow suit.
APC swept into power in 2015 campaigning the mantra 'change', indicating its commitment to transforming the ways things are done in the country.
Gummi, who retired a judge,  said disrespect for the rule of law, bad governance, disobedience to court orders, non-compliance with electoral regulations by political parties, godfathers hijacking the electoral process and dwindling confidence in the justice system posed threats to Nigeria's democracy.
He spoke while delivering the keynote address  at the Barewa Old Boys Association annual lecture titled  'The challenges of the judiciary to democracy: The Nigeria perspective.'
The event took place  at the Umaru Ali Shinkafi Polytechnic, Sokoto.
He said, "Orders of court are disobeyed at will in the name of fighting corruption. No one institution, no matter how highly placed, should flout the laws of the land, not even under the guise of fighting corruption. Refusing to obey an order of court is another form of corruption in itself.
"The executive cannot play the role of both the accuser and that of the judge at the same time. It is an aberration in a democracy. National security cannot take precedence over the rule of law; rather, it should be guided by the rule of law.
"Any democracy where the executive tries to intimidate and harass the legislature and/or the judiciary into doing its bidding is a democracy under threat. In the same vein, it is not right in a democracy for the National Assembly to make governance difficult for the executive for pecuniary reasons.
"We all agree that we need change as promised by the government, but that change must first begin with them, then, you and me."
Gummi described the judiciary as the watchdog of democracy, without which "reckless marauders will attack the society."