CBN, MTN near settlement over $8.1bn fund transfer directive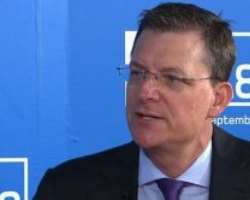 MTN Group Limited and the Central Bank of Nigeria are close to a deal over an order to repay $8.1bn it is alleged to have illegally taken out of the country, according to a person familiar with the matter.
Bloomberg reported that a settlement might be sealed by Monday and could come as early as Friday, said the person, who asked not to be identified because they're not authorised to comment publicly.
Reports indicate that the MTN Group CEO and President, Mr. Rob Shuter, was in Abuja on Thursday and met with the CBN Governor, Mr. Godwin Emefiele, to discuss the fines, which the South African Reserve Bank (SARB) has said could increase the risks to the country's financial system.
It was learnt there was an agreement that the CBN would grant the telecoms a substantial reduction in the fines.
Following the deal, the apex bank is to meet with the four banks affected by the hefty fines Friday.
Reuters had reported that CBN emailed invitations Thursday to the Nigeria heads of Standard Chartered, Citibank, Stanbic IBTC Bank and Diamond Bank to attend a meeting today.
CBN had accused South Africa-based MTN of violating currency regulations by sending $8.1 billion abroad.
In August, the apex bank ordered the company and its banks to repatriate the funds.
MTN and the banks involved have denied any wrongdoing and the banks want the central bank to refund the money charged to their accounts in the form of fines.
Reuters had said the CBN and the banks declined to comment on today's meeting, adding that a spokeswoman for MTN told it she did not know of the proposed meeting.
Last week, a Lagos court adjourned a hearing on the $8.1 billion dispute between MTN and the CBN until December 4.
Reuters quoted Emefiele as having said he was optimistic the MTN issue could be resolved.
Nigeria is MTN's biggest market, accounting for a third of the lender's annual core profit, but has proved to be problematic in recent years.
The Johannesburg-based company has lost almost a fifth of its market value since Nigerian authorities said in late August that it needed to repay the $8.1 billion.
MTN and the four banks, which have been fined $16 million between them, deny any wrongdoing.
If a deal is reached, MTN will probably dismiss its court case against the central bank and Nigeria's attorney general, which it brought to stop the transfer order, according to the person.