Delta Community Raises Alarm Over 2.193km Abandoned Road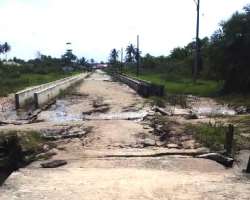 The people of Ogidigben community, Warri South West local Government Area of Delta State have called on the Mr Ifeanyi Okowa-led administration to as a matter of urgent public interest complete the abandoned 2.193 kilometer OBITOBON-ELOLO-AJAKROUGBO-URUBO reinforced concrete road.
The contract, which was awarded to one METSAN SERVICES LIMITED, in April 2017, has since been allegedly abandoned midway, leading to its deplorable state thereby causing a death trap to indigenes and other road users.
A member of the community, Ebimiyemi Kingsley, lamented that "The sorry state of the road has left a devastating effect on the social-economic life of the people.
According to him, "The people of the community are appealing to the state governor to please as a matter of urgency, mobilize METSAN SERVICES LIMITED to enable the company resume work on the road project".
Other community respondents bemoaned the lack of government presence in Ogidigben, saying they have not benefited anything from the present administration, "Are we no longer part of this state? They asked.
Members of the community are already cut off from the rest of the State as the only accessible road leading to it has been rendered impassable due to the abandoned construction works on that road.
They warned that if efforts are not made by the government to effect the completion of that road they would be forced to take drastic decision as it concerns the forthcoming general elections.
At the time of filing this report, calls put across to the State Commissioner of Works
, James Augoye, were buffed