Victoria Secret unveils $1m Fantasy Bra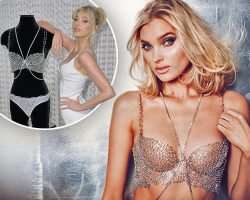 The 2018 Victoria's Secret Fantasy Bra has been revealed, and it's just as boujee as you would expect.
The Fantasy Bra isn't just a regular bra, not only is it worth a cool $1 million dollars, but it will also make its debut on this year's Victoria's Secret runway, modelled by VS Angel, Elsa Hosk. Who will be joining the likes of  Winnie Harlow , on this year's runway in New York City.
This year's sterling silver bra took over 930 hours to create, and is adorned with over 2,100 Swarovski 'created diamonds'.
VICTORIA'S SECRET
As most of us don't have a casual $1million dollars to spare, Victoria's Secret will be selling a cheaper replica version in store and online, exclusively on Thursday 29th November.
Although, it will still set you back $250… That's £191, and just think how many regular, non-boujee bras you could buy for that price.
Follow Laura on  Instagram .