NGO Holds Enlightenment Training Programme For Community Stakeholders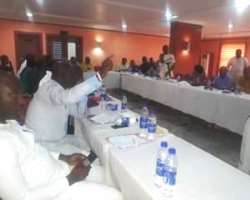 A Non-Governmental Organization (NGO), Connected Development (CODE), is currently engaging community stakeholders in Delta and Akwa-Ibom States on Conflict Fragility in order to equip participants on the role of government and the Social Corporate Responsibilities of companies operating in their various communities.
The awareness creation programme, holding at Best Western Plus, Elomaz Hotel, Asaba, started Tuesday and would end Wednesday with the theme: "Improving Transparency & Accountability In The Oil And Gas Sector & Promoting Agency for Host Communities", is aimed at educating participants on their rights.
One of the organizers, Chambers Umezulike, said the essence of the training is to build participants capacity on oil governance, to strengthen their ability to engage the oil companies and government and understand the key and underlying issues in the sector.
Umezulike, expressed hope that at the end of the programme, participants should be able to collaborate, get themselves into buying into the project just as he charged them to keep their minds open to be able to grab the much they could.
In their separate welcome addresses, Chinedu Bassey of Civil Society Legislative Advocacy Center (CISLAC) and Steffia Imoesi of CODE, charged participants to listen with all enthusiasm to be able to digest activities lined up for them in the 2-day training programme.
An Akwa-Ibom state participant, Chief Okon Sunday Akpanonwong (JP), said he is impressed with the prograame as it is an eye opener for him, "the programme today has really helped me to enlighten the communities of their rights to follow up in a way and manner that will bring a lasting peace and benefits to their communities".
A Delta participant and Secretary, Obodoegwa Community, Ndokwa West local government area, also pointed that the programme is an eye opener and educative.
OXFAM, is the international donor agency while CODE and CISLAC are the Nigeria bodycarrying out capacity building for community stakeholders and bridging the gap between the community members and the oil companies while CISLAC dwell more on research on the impact of the activities of the oil companies on the communities.