IGP Intelligence Response Team IRT Personnel who Died in the Line Of Duty In Nigeria.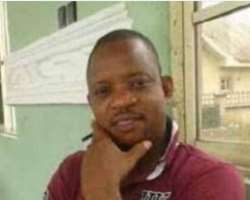 The Nigeria Police Intelligence Response Team (IRT) is Nigeria's Leading Technology/Intelligence Led Unit Specifically created to Fight Kidnappings, Armed Robberies, Terrorism, Murders and other Violent Crimes across the Country.
Some of the breakthroughs recorded by IRT in the Fight against Crime in Nigeria includes: Arrest of the Most Notorious Kidnap Kingpin in the History Of Nigeria, Billionaire Kidnapper Evans and his Group in Lagos. Arrest of The most brutal and deadliest Kidnapper in the Nation's History Henry Chibuzor aka Vampire in Imo State, Arrest of the Boko Haram Terrorist Responsible for the Nya-Nya and Kuja Bombings Of 2015 in FCT Abuja.
Arrest of Hundreds Of Kidnappers Terrorizing Abuja-Kaduna-kano Expressway, Kidnappers And Armed Robbbers Terrorizing Kogi, Niger, Zamfara, Benue, Nasarawa, Edo, Delta, Rivers, Abia, Ogun and Taraba States. Arrest of The Kidnappers Of Elder Statesman Chief Olu Falae in Ondo State who were eventually Sentenced to Life imprisonment by the Ondo state High Court, The Kidnappers/Killers Of Reverend Father Adeyi in Benue State who Received Death Sentence from Benue State High Court, The Kidnappers Of the Ikorodu and Turkish school Girls in Lagos and Ogun states Respectively. Arrest of the Kidnappers of 2 Americans and 2 Canadians in Kaduna State, Arrest of the kidnappers of 2 South Africans in Birnin Gwari Axis of Kaduna State. Foiling of attempt to Bomb Third Mainland Bridge in Lagos, Arrest of Suspects and Recovery Of heavy Explosives etc etc.
The Unit's most recent breakthrough was the Arrest Of the Dreaded Boko Haram Terrorists Responsible for the 2014 Kidnapping Of the Chibok School Girls In North Eastern Nigerian, Arrest of Coordinators and Kingpins of Suicide Bombings in Borno, Yobe and Adamawa State. Also the Arrest of the Offa Bank Robbers in Kwara State who Murdered 33 Innocent Nigerians including 9 Police Officers. The Unit has also Prevented/Foiled hundreds of crimes across the Nation and brought Thousands Of Criminals to Justice as well as Recovered Hundreds Of Rifles and other weapons from vicious criminals across Nigeria.
Sadly, In the Course Of the Numerous Fights against Deadly and Notorious Criminals across the Country, the Unit lost 10 Officers directly in the line of duty during Gun battles with Hardened of Deadly Armed Robbers/Kidnappers/Terrorist.
Provided below are the Names Of The late Officers, with full details of their Wives and Children for your Direct Access and Assistance to the Immediate Families in any way possible to ameliorate their pains and difficulties in taking care of School fees, Feeding, Accommodation, Medicals etc:
(1) LATE INSPECTOR FELIX IGBASAN
MRS. MARY Nene FELIX IGBASAN
+2348052273877
+2348028372453
FOUR (4) CHILDREN
ADDRESS: Alausa, LAGOS STATE
GUARANTY TRUST BANK (GTB)
0007806446.
(2) LATE INSPECTOR TOM MOHAMMED
MRS AISHA RAMAT
+2347068857918
+2349023616128
ADDRESS: MARARABA, NASARAWA STATE.
FOUR (4) CHILDREN
FIRST BANK
3122184229.
(3) LATE INSPECTOR MAMAN ABUBAKAR.
MRS FATIMA ABDULLAHI
+2347035208594
ADDRESS: ABAKPA, KADUNA STATE.
FOUR (4) CHILDREN
FIRST CITY MONUMENT BANK (FCMB)
5443542015.
(4) LATE INSPECTOR BERNARD ODIBO
MRS. ODIBO PATIENCE IDOWU
+2347061957712
ADDRESS: SAGAMU ABEOKUTA EXPRESS WAY, OGUN STATE.
FOUR (4) CHILDREN
UNITED BANK FOR AFRICA (UBA)
2113003680.
(5) LATE INSPECTOR HARUNA IBRAHIM
MRS ZULAI HARUNA.
+2348068756005
ADDRESS: MAMUDO TOWN, POTISKUM LGA. YOBE STATE.
SEVEN (7) CHILDREN
UNITY BANK
0036242113.
(6) LATE INSPECTOR CHRISTOPHER ODUBANJO
MRS FUNMILAYO SEGUN.
+2347033636349
+2349055554965
ADDRESS: AGBULE EGBA, LAGOS STATE.
ONE CHILD.
UNITED BANK AFRICA (UBA)
2028931652.
(7) LATE INSPECTOR LANRE SANUSI
MRS. ENIOLA ARIKE BABA SHOLA.
+2348122031571
FIVE (5) CHILDREN
ADDRESS: AGBADO ADIYAN GASLINE, IFO LGA. OGUN STATE.
FIRST CITY MONUMENT BANK (FCMB)
4939051013.
(8) LATE INSPECTOR ROBERT FRANCIS
MRS. NAOMI BULUS FRANCIS
+2348034681170
+2348075999748
THREE (3) CHILDREN
ADDRESS: JALINGO, TARABA STATE.
UNITED BANK FOR AFRICA (UBA)
2030843716.
(9) LATE SERGEANT EMMANUEL ISTIFANUS.
MRS. MARY EMMANUEL
+2348078488355
FOUR (4) CHILDREN
ADDRESS: SHIRORO LGA. NIGER STATE.
ACCESS BANK
0782551558.
(10) LATE CORPORAL SUNDAY SAMUEL FAFOLUYI
MRS. FAFOLUYI OLUWASEYI ADETUNBO
+2348166875348
+2349070986994
FOUR (4) CHILDREN
ADDRESS: IPAJA, ALIMOSHO LGA. LAGOS STATE.
GUARANTY TRUST BANK (GTB)
0234949107.