Donald Trump said black people were 'too stupid' to vote for him, his former lawyer Michael Cohen claims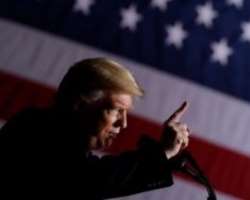 Donald Trump once claimed black people were "too stupid" to vote for him and regularly used explicitly racist language before coming into office, his former lawyer has claimed.
Michael Cohen, who served as the president's lawyer and fixer for a decade, claimed he witnessed Mr Trump making derogatory comments about black people throughout the 2016 election campaign.
Cohen has publicly split from Mr Trump since he was charged with  campaign finance violations and tax fraud earlier this year.
He pleaded guilty to several charges this summer, claiming he violated  election laws at the direction of Mr Trump, to pay a porn star in a hush  money agreement.
In his first interview since his guilty plea, Cohen told  Vanity Fair  Mr Trump said "black people are too stupid to vote for me" after he made an observation that crowds at the candidate's rallies were largely caucasian.
Cohen, who once said he would 'take a bullet' for the president, made a series of claims on Friday  Credit: Reuters
Cohen further claimed that after Nelson Mandela's death, Mr Trump said "name one country run by a black person that's not a sh**hole".
He added that Mr Trump once said his decision not to pick a black Harvard graduate on The Apprentice "there's no way I can let this black f*g win".
It is not the first time Mr Trump has been accused of racism. Earlier this year Mr Trump faced claims he had referred to African nations as "s*** hole countries".
Omarosa appeared on The Apprentice before coming to work at the White House Credit: AFP
Former aide Omarosa Manigault Newman also claimed Mr Trump had used the n-word during filming of reality TV show The Apprentice.  At the time Sarah Sanders, the White House press secretary, said she could not  "guarantee" that Mr Trump had never used the slur .
The White House has not yet responded to these latest claims.
It came after a week in which the US president amplified his hard-line stance on immigration, even suggesting American soldiers could open fire on a migrant caravan if its members threw rocks.
In an address from the White House on Thursday evening, Mr Trump said: "If they [migrants] want to throw rocks at our military, our military fights back…I told them, consider it a rifle."
Mr Trump rowed back on the comments on Friday after former US generals, including a former Chairman of the Joint Chiefs of Staff, rebuked the idea and questioned the legality of such action.
The US president changed course saying, "They [soldiers] won't have to fire. What I don't want, I don't want these people throwing rocks."
He added: "What they [migrants] did to the Mexican military is a disgrace. They hit them with rocks…they do that with us they are going to be arrested."
Earlier on Friday, the Nigerian Army, which has been accused of numerous human rights abuses, used Mr Trump's remarks to justify its fatal shootings of rock-throwing protesters this week.
The Nigerian Army's official Twitter account posted a video of Mr Trump's remarks, saying: "Please Watch and Make Your Deductions". The tweet has since been deleted.
The "Tent City" will house numerous soldiers for Operation Faithful Patriot, the deployment of military personnel to the border Credit: AFP
Mr Trump also defended his plans to sign an order next week to end what he called the "abuse" of the US asylum system, including the potential construction of "massive tent cities".
He insisted that migrants seeking asylum status would be made to wait at the border while their requests are processed. "Everything we're doing is totally legal," he told reporters.
"But we have one of the few systems where instead of telling people you can't come in, we take them in and we have to bring them to a court. It is the most ridiculous system in the world."
The US military confirmed on Friday that more than 7,000 soldiers will be pre-positioned in states bordering Mexico by the end of the weekend.
It is thought to be the largest peacetime deployment of active-duty troops to the border in nearly a century.
Opponents have suggested this is a political stunt by the president, coming just days before critical midterm elections, and accused Mr Trump of spreading division.
Asked whether he was creating violence, Mr Trump told a reporter: "You're creating violence by your question. The fake news is creating violence."
At the same time, former President Barack Obama was at a campaign rally in Florida warning against rhetoric he said was designed to sow fear.
"In the closing weeks of this election, we have seen repeated attempts to  divide us with rhetoric designed to make us angry and make us fearful," he told an audience in Miami. "You can be a check on that kind of behaviour."
"They're telling you the existential threat to America is a bunch of poor refugees 1,000 miles away," Mr Obama said.
"They're even taking our brave troops away from their families for a political stunt at the border. The men and women of our military deserve better than that."