Former Kano Deputy Governor Exits Out Of PDP Two Months After Joining Party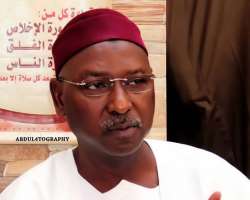 The immediate past deputy governor of Kano State, Hafiz Abubakar has dumped the Peoples Democratic Party (PDP) to join the Peoples Redemption Party (PRP).
Abubakar told his supporters that he left PDP due to injustice meted to his supporters as the PDP failed to grant his 'only request' of one slot in the Kano State House of Assembly to be given to one of his loyalists.
He also said the national leadership of PDP had rejected a move by a former governor, Rabiu Kwankwaso, who recently joined the party, to nominate a candidate for the deputy governorship slot from his camp, but rather gave the state leadership of the party the privilege to choose "who would fly the ticket with Mr Kwankwaso's (governorship) nominee".
Abubakar joined the PDP in August in solidarity with Mr Kwankwaso, two days after his (Abubakar) resignation as deputy governor.
An angry Mr Abubakar said, "nobody consulted him on the PDP national headquarters' directive, but one of the leaders nominated one of his managers to fill the deputy governor's candidature".
"Although I will not seek the position, because I came from same local government with the governorship candidate, but courtesy demands that I should be consulted. But some people sat down and took decisions without our consent and sent the selected candidate to national headquarters of the party.
"They thought I am irrelevant. At this juncture I decided to move out so that whoever thinks I am irrelevant will find out the truth or otherwise of his assumption. This is my main reason of leaving the PDP. I have notified ward and local government leadership of the party," he said.
Mr Abubakar's letter written to the chairman of PDP Mandawari ward, Gwale local government area read: "I wish to write and notify you of my decision to voluntary withdraw my membership of Peoples Democratic Party on personal ground. This decision is with effect from 29th day of October, 2018.
"I want thank all the members of the party at the various levels for the support and cooperation given to me during the period I spent as party member.
"Accept assurances of my highest regards please."
Meanwhile, Mr Abubakar also told his supporters about the PRP, the new party he is joining.
"I have since expressed my interest to contest for governorship in PRP after obtaining the membership card of the party.
"One interesting thing about new PRP is the party has developed certain preconditions to new entrants who want to contest under the party. I read it and I am optimistic of clinching the party ticket, having met all the criteria."