There will be no election in 2019: Prophet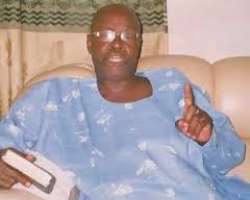 An Enugu based prophet, Anthony Nwoko, has declared that there will be no election in 2019, coming hard on the leading presidential candidates, President Muhammadu Buhari and Alhaji Atiku Abubakar, saying that they are not the solution to Nigeria's problems.
Although, the prophet did not spare the leader of the Indigenous People of Biafra, (IPOB), Mazi Nnamdi Kanu and that of the Biafra Independent Movement, (BIM), Chief Ralph Uwazuruike, claiming that they are "playboys."
Briefing newsmen in Enugu on Tuesday, the prophet declared that he was the ordained messiah.
He described both candidates of the All Progressives Congress, (APC), and the Peoples Democratic Party, (PDP), as birds of a feather.
He said "both Atiku and Buhari are going, people are dying and they are talking of winning election in 2019.
"I want to tell Atiku and Buhari that they should pack and go. Enough is enough; tell Buhari that I said he should go. What I saw in all of them is darkness. God will proscribe all of them; I will use Angels to stop them."
He added that "Igbos following these people because of money will face the consequences. I'm saying it emphatically; Buhari is not the right choice.
"Tell Buhari that I said he should heed to my warning. There will be no election in 2019, who are they electing, when they rejected the chosen one?
"If not for me, there will be nobody; God has rejected Buhari a long time ago. I'm tired of this wicked nation, their cup is full. I'm coming with action this time."
Nwoko said Nnamdi Kanu lacked the capacity to liberate the Igbo, having disobeyed God.
"This is not about Nnamdi Kanu who ran away," he said, adding: "Nnamdi Kanu should remain in Israel, he only resurfaced to scatter things.
"I told Nnamdi Kanu that Biafra will not come by carrying flags around; he has nothing to offer. He has no protection, he disobeyed God.
"He is looking for salvation in Israel but it is here. You cannot be a leader and run away. Nnamdi Kanu and Uwazurike are just looking for money, they are play boys."
Credit:   News Express