*Re: May I Not Be Buried In Ukana If Emmanuel Defeats Ekere - Defending The Indefensible*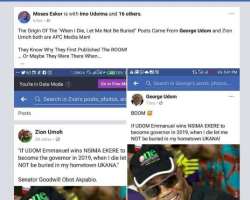 Our attention has been drawn to an indefensible defence signed by Mr Anietie Ekong, the media aide of the immediate-past Senate Minority Leader, Senator Godswill Akpabio which labours with passion to cast aspersion on the Akwa Ibom State Government in a failed attempt to make the Senator swallow his words of pride.
In the first instance, this statement, coming days after the Senator's boast had trended the social media, shows that it is only an afterthought. This 11th hour consideration of refuting the statement shows that the writer was compelled to retract the Senator's words owing to widespread condemnation by right thinking members of the public. It will not be surprising to also read a denial of this denial statement after some days.
The statement blamed the said report on media agents of the Akwa Ibom State Government even when no government official has been cited as being the originator or purveyor of the said story. But on the contrary, the credibility of the source of the quote is founded on the fact that it originates from insiders of Senator Akpabio's camp, as it was first published and read on the Facebook walls of an APC House of Representatives aspirant and strong supporter of Senator Akpabio, Mr. Zion Umoh as well as one George Udom, an APC fanatic. Unfortunately, Senator Akpabio is unable to call these his supporters to order, neither has he warned them against publishing every vain words he utters.
It is pathetic that people are looking for where to transfer aggression to on the diminishing profile of former Senate Minority Leader, who only recently, embarrassed himself on the floor of the Senate in front of live television cameras; who would we blame for that? So, when the statement says such frivolous and unfounded statement cannot come from Senator Akpabio, it is a statement, only rich in humour and laughable.
Going by the Senator's recent stained banner of war and "Warsaw" cries he raised at home and away, the recent statement shows that he is unrepentant in the mission of destruction in the name of election in Akwa Ibom State.
Might be we tend to forget too soon that in the presence of Senator Akpabio, a woman, Mrs Utitofon Okon proudly introduced someone, a certain Kingsley, as a killer and gunrunner, and urged him to sponsor the said Kingsley to a political office in 2019, and he clapped. A federal lawmaker and former Governor clapped, and on video.
Therefore, instead of blaming and insulting the integrity of the Akwa Ibom State Government or its media officials, the Senator should be advised by his managers to moderate his public utterances. Let some of these shameful words not be allowed to be heard by others. He needs not utter them, for people already know that his heart is filled with devilish thoughts; We suppose that keeping them within the confines of his mind will save him this growing embarrassment. It will also help his ruffled media handlers this paucity of defence registers.
Our leader, His Excellency Governor Udom Emmanuel, has gotten global affirmation for enthroning peace in our dear state since the advent of his administration in 2015, resulting in the attraction of massive investments opportunities into the state. We can't afford to wish that away on the platter of any desperate ambition. Let us state categorically that elections will always come and go, but scars arising from an inordinate actions of desperate politicians, would linger for ages. Wherever one chooses to be buried should be part of his private will to his family members; and should not be used to cause the burial of other innocent people.
Signed
Micheal Okon
International Coordinator,
Friends of Udom Emmanuel on Facebook