Return The Reps Ticket To Hon Kingsley Uju Or Risk Losing Ohaji /Egbema/ Oguta To Opposition- Barr. Okonji Warn Apc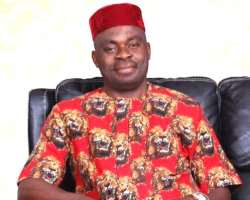 Barrister Temple Okonji a Legal Practitioner and member of All Progressives Congress from Ohaji Egbema L.G.A has cautioned the APC National Working Committee to reconsider their decision of denying the true and rightful winner of APC primary in Ohaji Egbema/Oguta /Oru West Federal Constituency, Hon Kingsley Uju his ticket which they gave to Hon Goodluck Opiah in the name of Automatic ticket .
The legal luminary stated this in Abuja last week during an interview with The Nigerian Voice. He stressed that Hon Kingsley Uju have single handedly made the party, APC, a household name across the Federal constituency through his philanthropic gestures and goodwill which the people in the area embraced which made them to support APC.
He said the contribution of Hon Uju Kingsley in membership drive for APC in the constituency is glaring and overwhelming.
He warned that if Kingsley Uju is denied the ticket by the Party , it will be the end of APC in the Oil producing Area of Imo State.
He stated that Ohaji Egbema /Oguta /oru West Federal constituency was a People's Democratic Party stronghold but people like Kingsley Uju became the game changer in recent political development in the Area.
He said that there is no reason for giving automatic ticket to the incumbent house of representatives member because the same House of Representatives Member in 2015 kicked against giving automatic ticket to Hon Gerald Irona and insisted on rotation and agreement which Hon Irona signed to served for one term.
He said that if truth be told, persons who goes to equity should be fair to all ,and live by example.
Barrister Temple Okonji Opined that the Opposition PDP is more strategic for giving Hon Gerald Irona the Deputy Governorship candidate of the party while the APC is denying somebody who is in the grassroot the ticket to assist the party.
He emphasized that if Hon Uju Kingsley is denied the ticket the area has no option than to support PDP who gave their son ticket for Deputy Governor .
Barrister Temple Okonji hinted that if All Progressives Congress National Working Committee want true reconciliation for the Primaries in Imo State and insist on not giving Ugwumba Uche Nwosu Ticket because he is from Orlu. they should not have turned back to give it Sen. Hope Uzodimma because both are all form Orlu. It will amount to injustice if Hon Uche Nwosu who rightly won the Primary was denied it because of flimsy reasons and Sen. Hope Uzodimma will be compensated just like that.
He reasoned that if the ticket was given to someone else from other Senatorial district it will be more understandable. He said that people must say the truth and ensure Justice to all times.
He said one of the things Owelle Rochas Okorocha has done in his Seven years which Past administration ignored is bringing the Youth to be part of governance. He said Governor Okorocha brought new political order in Imo state where young Imolites participated in his Administration and used the opportunity to also empower their fellow Youths He questioned the rational behind the saying that Uche Nwosu is Okorocha's Son In-law while beneficiaries like Hon Chike Okafor , Hon Henry Okafor, Hon Uju Chima, and numerous other Youths who are are not related to Okorocha in any way benefited. He said that Imo Youths will remain grateful to Okorocha even after the expiration of his Administration.