Peter Obi Insists: South East has no issues with my nomination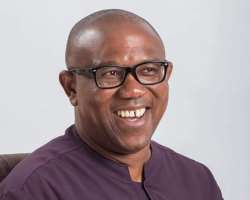 The vice presidential candidate of Peoples' Democratic Party (PDP), Mr Peter Obi says there is no issue with the people and leaders of South-East over his nomination as running mate to Atiku Abubakar.
Obi, former Governor of Anambra stated said this in an interview with News Agency of Nigeria (NAN) in Abuja on Wednesday.
Obi was reacting to comments credited to some South–East leaders that they were not consulted before his nomination for the 2019 presidential election.
"There have never been issues with my people, not one person has said we do not support the candidacy of Peter Obi.
"Our leaders have said the communication is not the way they would have wished to receive it, and that is understandable.
"They have never said we do not want Peter Obi, no body. Go and check it anywhere nobody has said so.
"And those are the respected leaders.
"When you talk about Governor Umahi, who is the chairman of the zone, somebody like Ike Ekweremadu, who is the highest office holder from that zone; these are our leaders, these are my leaders.
"I respect them a lot and I respect their feelings and I assure you we are going to work as a family because it is important to us."
On growing the economy, Obi said what was needed in the country was focused leadership that would do the right thing to turn around the economy.
`'If you want your economy to grow, you need to have right leadership and they have to do the right things.
"There should be a clear total plan deliverable that is followed strictly; and that you will see when we start the campaign."
He said Nigerians should do the right thing by voting rightly in order to fix the country.