British govt informs Nigeria of plans to issue travel document to Kanu: Source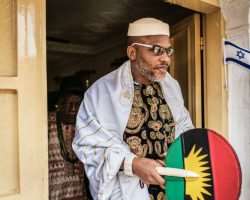 The British government has informed the Federal Government of plans to issue travel document to the the leader of the Indigenous People of Biafra, Nnamdi Kanu.
A top government official disclosed this to reporters on the condition of anonymity on Tuesday.
Kanu is a dual citizen of Nigeria and Britain.
The source said in informing the Federal Government of their intention, the British authorities made it clear that they have the best intentions towards Nigeria.
"The British authorities have briefed the Nigerian government about the temporary travel documents they are about to issue to Nnamdi Kanu, who holds a Nigeria-UK dual citizenship.
"It shows that they have the best intentions towards the Federal Republic of Nigeria," the source said. – PUNCH