Deputy Speaker of Edo State House of Assembly Tiger Edoror impeached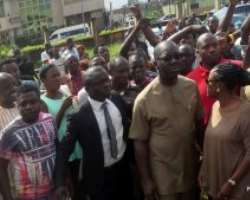 Tiger Edoror, the Deputy Speaker of the Edo State House of Assembly, has been impeached.
 Channels TV reports that the impeachment of the Deputy Speaker followed a motion moved by the member representing Oredo East Constituency, Osaigboyo Oyoha alleging financial misappropriation, anti-party activities and corruption against the former Deputy Speaker.
Reports say the process led to a rowdy session as the former Deputy Speaker,  and some of his loyalists tried to resist the action.
Edoror was replaced with a former Speaker, Mr. Justin Okonobor.
The Punch reports that the development led to a pandemonium in the Assembly Complex as security operatives shot in the air to disperse angry supporters of the embattled member who allegedly attempted to stop the impeachment.
The lawmaker, representing Oredo East, Mr. Osaigbovo Iyoha, told The Punch that the impeachment notice was signed by 16 members, out of the 24 lawmakers in the House.
The lawmakers accused Edoror, representing Esan Central constituency, of corruption, high-handedness, and desperation.
It was, however, learnt that the impeachment may not be unconnected with an alleged plot by some All Progressives Congress members from the Edo Central senatorial district to remove the Speaker, Mr. Kabiru Adjoto, who hails from Edo North.