Journalist attacked as 24-hour curfew takes effect in Kaduna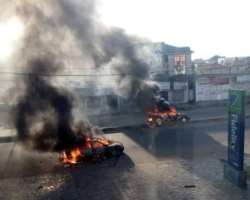 Joy Odor, a reporter with Nagarta Radio, was attacked on Sunday evening as the 24-hour curfew imposed by the State Government went into effect.
"I was stabbed by hoodlums who attacked commuters in the commercial bus transporting us from Kawo Motor Park to my residence in Mando," Odor said.
"The hoodlums stabbed me on my wrist and carted away my mobile phone. I managed to escape and fled to the nearby 1 Division Nigerian Army Head Quarters.
"I am currently being treated at the I Div Barracks Hospital. I don't know the fate of other commuters in the bus," she added.
The 24-hour curfew on Kaduna metropolis was made known by the Senior Special Assistant to the Governor on Media and Publicity, Mr Samuel Aruwan, via his Facebook page.
He said that the curfew was with immediate effect. A senior security official who spoke on the condition of anonymity to The Nigerian Voice said the situation is bad, "but we are trying to put it under control".
" Vehicles torched along Ahmadu Bello Way, Kaduna, before the curfew took effect.