Abia State: Panic In Govt House As EFCC Quizzes Abia Finance Commissioner, Four Officials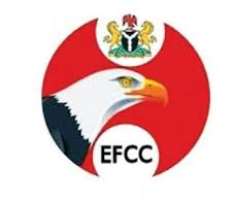 The Economic and Financial Crimes Commission (EFCC) has commenced investigation into alleged financial misappropriation involving at least five officials of the Ministry of Finance in Abia.
The state's Commissioner for Information, Chief John Okiyi, made the disclosure on Friday in Umuahia during a joint news briefing with the Commissioner for Finance, Mr Obinna Oriaku, Chief Press Secretary to the Governor, Mr Enyinnaya Appolos, and Dr. Moses Orji, a media aide to the governor. The commissioner said that the anti-graft probe was prompted by a petition from a commissioner in the state Civil Service Commission, Mr Guy Okite. He said that four of the suspects worked in the payroll unit of the ministry of finance. He said that the finance commissioner was also invited to shed light on some of the issues raised by the petitioner adding that he had since returned to his work. We've spent over N50m on flooded communities, IDPs —Bayelsa dep gov Okiyi said that while two of the suspects were still being detained by EFCC, three others, including Oriaku, would only report to the commission whenever the need arose.
The commissioner, who did not disclose names of other suspects, said that the thrust of the investigation followed the 2017 annual report of the state audit team. He, however, said that the petitioner should not have gone ahead with the petition since the contentious issue in the report had already been withdrawn by the same audit unit. Okiyi said that the activities of the state government were open to scrutiny by relevant government agencies. According to him, Ikpeazu's administration has zero tolerance for financial impropriety and would not shield any official allegedly involved in corruption.
He said, "Ikpeazu has zero tolerance for corruption and has long been adjudged the most transparent in the country. "We, therefore, welcome scrutiny by relevant agencies of the state into our transactions, but such should be within the ambit of the law. "The governor expects all employees of the government to carry out their official functions with the highest level of transparency and professionalism. "Employees should also be prepared to give account to relevant institutions and the people of the state upon demand," the commissioner said. He said that the state government welcomed the probe but charged EFCC to conduct their investigation professionally, in line with their constitutional mandate. He further opined that those found culpable should be punished according to the law. Speaking further on the alleged fraud, the Commissioner for Finance, Mr Oriaku put the amount involved at approximately N6 million. "The amount involved was not in the neighborhood of N200 million or N100 million as speculated but around N6 million," Oriaku said. NAN