Pensioners To Get Increase In Pension, As Delta Government Approves Work On Five Roads, Appoints 3 Traditional Rulers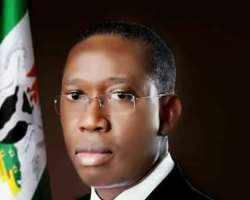 Pensioners who retired before May 2000 and have gotten 33 per cent increase in the rates of pension they receive would soon smile as the Delta State government has approved an increase in the pension payable to them.
Commissioner for Information, Patrick Ukah, gave the disclosure Ukah, after the State Executive Council meeting held in Asaba, said that the increase is meant to ameliorate the sufferings of the pensioners.
The Commissioner further revealed that the contract for the completion of the perimeter fencing of Asaba International Airport was approved, just as the procurement of third party services for the development of gas based Industrial Park in Kwale, Ndokwa West Local Government Area, was also approved.
Other approvals are the award of contract for the construction of 32 units cluster houses (2 bedrooms semidetached bungalow) at Oboghoro/Utolina communities in Warri North, the implementation of an automation of tax administration process by ICMA Professional Services which would commerce this month.
Ukah stated that the EXCO approved the appointment of Obi Lawrence Onicha Kogwu as the Obi of Ubulubu in Aniocha North, Ebenanaowei of Tuomo Kingdom in Burutu Local Government Council and Obi Onyemaechi Josiah Jonathan 11 Kanyinaga as the Obi of Obomkpa, Aniocha North.
In continuation of the laudable road construction initiative of the state government, Ukah said that the meeting approved the award of the contract for the construction of Uzougba link Road to Issele Uku and Otulu Road, Ubulu Okiti, Aniocha South, the construction of old Okpe Road, Jeddo, Okpe Local Government Council and additional scope of works for the rehabilitation and asphalt overlay of Obutobo 1-Obutobo 11 to Sekebolou-Yokri Road in Burutu Local Government Council.
Also approved, according to the Commissioner for Information, are the award of contract for the construction of Ogwefe-Ugbenu Koko Road Phase 11, Oghara, Ethiope West and the construction of Access Road to Nigerian Maritime University, Okerenkoko (Kurutie Campus) in Warri South West.