I Have A Better Pedigree Than Okorocha - Imo Deputy Governor
- Says He Will Perform Better As A Governor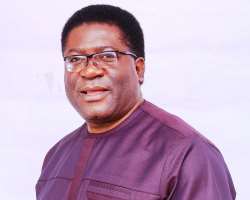 The Deputy Governor of Imo State, Prince Eze Madumere, while responding to Governor Rochas Okorocha's interview on BBC Igbo service, claiming that one of the reasons he chose his son-in-law over others was based on competence, said that Governor Okorocha could not have been where he is today, without his tutelage and grooming.
Prince Madumere made the clarification while fielding questions from newsmen over Governor Okorocha's verbal attack on him.
Prince Madumere explained that without him there could not have been today's Rochas Okorocha and could not have become even a Governor.
The Deputy Governor further chided Governor Okorocha for blackmailing him and other members of cabinet as incompetent and talking them down, querying the yardstick for denying those that made him succeed.
He wondered why Governor Okorocha could have the temerity to insult him, saying he is incompetent when he was the one that developed him from his crude nature to what he is today. He also revelaed that he has refused to join issues with Chief Okorocha for obvious reason of not destroying what God has used him to do.
Explaining his background and relationship with Governor Okorocha, he said: "I have tried hard not to join issues with Governor Rochas. Those individuals he mentioned in his interview are all here. You have the immediate past SGI and former Accountant General, Sir George Eche, former Chief of Staff and former SGI, Sir Jude Ejiogu, former Speaker, Imo State House of Assembly and present Distinguished Senator, Senator Benjamin Uwajumogu and of course myself, Prince Eze Madumere, former Chief of Staff and the Deputy Governor of Imo State at present. If Madumere is not competent enough for all these years and that has been a hunch behind Rochas' back. Without me, Rochas Okorocha would not have been where he is today and as a Governor. That alone speaks louder than even my pedigree. If we lay out our backgrounds in all ramifications, including our family background, I came from a better respected home than Rochas. Rochas has no home. All I can tell you is that I am more qualified and have better pedigree to govern Imo State than Rochas Okorocha; and I will do better as a Governor than what Rochas Okorocha has done. As a Deputy Governor, I rightly chose to take the side of the people than the side of the family of Rochas Okorocha."
However, the Deputy Governor of Imo State, Prince Madumere said he has no regrets sacrificing all to ensure that Chief Okorocha was better molded and became what he is. He revealed that the true test of the real nature of anybody is when he gets power, which is the case with Governor Okorocha.
It will be recalled that Prince Madumere was in corporate America at the high echelon before he was beckoned on by Okorocha to join him and help him succeed in his bid to achieve success in politics. Prince Madumere in a bid to help his friend was there for Governor Okorocha to manage his campaign and his outing at the Constitutional Conference between 1994 and 1995.
He vowed never to change his nature because of one ill-fated human development project but would continue to work with good matured Imolites to continue to contribute to the development of the State and take it to its .
Uche Onwuchekwa
Special Assistant to the Deputy Governor on Media