Updated: Boko Haram Kills Hauwa Leman, Another Female Red Cross Worker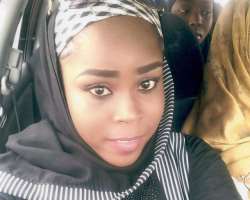 Boko Haram has executed Hauwa Leman, an aide worker with the International Committee of the Red Cross
Leman was abducted in March by a faction of Boko Haram, Jamaatul Alis sunnah lid daawati wall jahad, the Islamic State West African Province, along with two other aide workers, Saifura Khorsa, who was killed on September 16 and Alice Loksha, a nurse working for the United Nations Children and Education Fund.
The killing of Leman comes after the expiration of the deadline given to the Federal Government by the terrorist organisation.
In an earlier statement by The International Committee of Red Cross (ICRC), the organization made a passionate appeal to the terrorist group to spear the lives of the remaing humanitarian health workers " our plea, spare and release these women. They are not part of the fight. They are a midwife and a nurse. They are daughters, sisters, wives and mothers, women with children to raise, and families to return to".
The terrorists also vowed to keep Leah Sharibu, the Dapchi schoolgirl, as "a slave for life." In a short clip, Leman was forced to kneel down, with her hands tied inside a white hijab which has a crest symbol, and then shot at a close range.
In September 2018, the insurgent group killed Saifura Ahmed, one of the three humanitarian workers abducted in Rann, Kala Balge local government area of Borno state, in March 2018, in a similar manner.
Leman, a 24-year-old midwife and student of health education at the University of Maiduguri, was in the group that was abducted.
Four soldiers, four policemen and three humanitarian aid workers were killed in the attack.
ISWAP, in a short statement, said: "We have kept our word exactly as we said, by killing another humanitarian worker, Hauwa Leman, who is working with the International Committee of the Red Cross (ICRC) that were abducted during a raid on a military facility in Rann, Kala Balge in March 2018.
"Saifura and Hauwa were killed because they are considered as Murtads (apostates) by the group because they were once Muslims that have abandoned their Islam, the moment they chose to work with the Red Cross, and for us, there is no difference between Red Cross and UNICEF.
"If we see them, we will kill the apostates among them, men or women, and chose to kill or keep the infidels as slaves, men or women."
Relatives of Hauwa crying when the news of her execution was made public
Meanwhile, ISWAP has threatened to keep Sharibu as a slave.
She is the only Christian among the 110 girls abducted at the Government Girls' Science and Technical College, Dapchi, Yobe state, on February 19, 2018.
While other girls were released, she was kept back because she refused to renounce her Christian faith.
There has been a global plea for her release.
The group said in the statement that Alice Ngaddah, a Christian who works with UNICEF, will also be kept as a slave.
"From today", ISWAP said, Sharibu, 15, and Ngaddah, a mother of two, "are now our slaves".
"Based on our doctrines, it is now lawful for us to do whatever we want to do with them," the group further said.
Leah Sharibu, who was one of the students abducted from a Dapchi school in February is still being held by the group.