Man Escapes Death As Rain Storm Wreaks Havoc In Delta Community (Photos)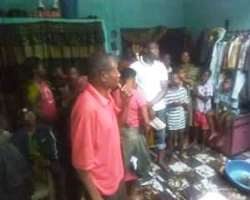 A man identified as Dr Dick Erirhomurun, has escaped untimely death following a whirlwind that blew, which caused a coconut tree behind his house to fall on his roof, destroying it and some of his belongings.
Trouble started in the early hours of Sunday 14th October 2018, in Oyenke Community of Okpe local government area of Delta State when it rained cat and dog accompanied by heavy wind.
Elder Erirhomurun who runs a chemist shop in Oyenke market, survived the natural disaster.
It was learnt that a Cocoanut tree behind his house fell and broke at the top, landed directly to his lying bedroom, fell on the bed while he just got up at the early hours of today th14 Sunday of October, 2018.