2019 Election: Pro-restructuring presidential candidate Will Be Supported By OHANEZE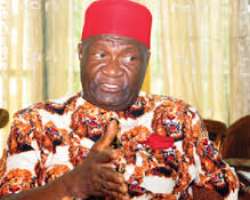 The leadership of the apex Igbo socio-cultural organisation, Ohanaeze Ndigbo, has rolled out list of criteria that would determine the candidate the group would support in the 2019 presidential election.
Ohanaeze said gone were the days when the South East would throw their massive weight behind political office seekers without serious thought on what the Igbo nation, which is one of the tripods on which the country stands, would get in return.
Speaking with Daily Sun in Abakaliki, Ebonyi State capital, the National Publicity Secretary of the group, Uche Achi-Okpaga, said Ohanaeze would engage all the presidential aspirants on critical issues that affect Igbo people before they decide who Ndigbo would vote for.
"Ohanaeze has been hammering on restructuring and we are resolute about it. We have been clamouring for restructuring.
"And, we have said we will only identify with any candidate who is ready to follow up our case; on restructuring.
"We are not mincing words about it; we have resolved it.
"Anybody who is ready to restructure Nigeria, we will identify with that person irrespective of the political party such a candidate belongs to," he added.
Aside restructuring, Ohanaeze said there were other areas of concern which must be given due consideration before they would endorse any candidate. It said, at the moment, it was working on key strategies with which it would face the presidential election.
These strategies, Ohanaeze said was not meant for public consumption, but said the Igbo nation was ready for the 2019 general election.
It assured that Ndigbo living both in the South East and other parts of the country would spring up powerful surprises when the time comes.
"We are still on the drawing board. Restructuring alone is not enough.
"We want to know, the nitty-gritty of the kind of restructuring the candidate wants; if he identifies with our own stand on restructuring.
"The plan we want to use on our people is still very confidential.
"We don't want to unfold it yet. It is still too early. Until we get the assurances on putting on ground, the nitty-gritty of the kind of restructuring we want in Nigeria.
"It is when we get that assurance; we should be able to explain to our people what we have gotten, so that they will know where to follow," he added.